By Greg Duke





(CNN) -- The most-eagerly anticipated Tour de France in recent history begins with a testing individual time-trial in Monaco on July 4 and fittingly, on U.S. Independence Day, an American will take center stage in cycling's greatest race.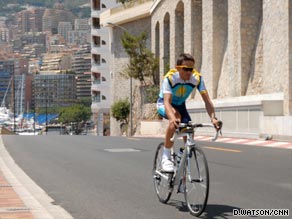 Contador out on a training ride in Monaco prior to the opening time-trial stage of the Tour de France.
Lance Armstrong's return to the race for the first time since winning the last of his seven Tour titles has dominated the build-up to the race -- and all eyes will be on the Texan over the next three weeks to see if he can add another chapter to his remarkable life story, both on and off the bike.
Armstrong is not favorite to be wearing the yellow jersey in Paris, that honor belongs to his Astana team-mate and 2007 champion Alberto Contador, but the American's competitive edge will and supreme ability will ensure he will make his presence felt in the peloton.

Tour de France explainer »
"I don't have the same confidence as I had before, that's natural, I think, after being away for four years," Armstrong told Eurosport.
"I come with an extreme sense of excitement and also, quite honestly, a heck of a lot of nerves but come Saturday afternoon I'll be excited to be there.
"I'm going to race hard for three weeks and if that's for Alberto or anybody else on the team, the most important thing is we win the race.
"It's just great to be here and be in this great principality. What a beautiful setting and what a great place to start this Tour."
The fact that Armstrong and Contador are on the same team adds further spice to the race. In any other team, the outstanding Contador would be the star name but since Armstrong's return at the start of the year, the Spaniard has only been mentioned in despatches.
Contador was prevented from racing in last year's Tour as Astana were banned because of drug misdemeanors regarding previous riders.
Don't Miss
Shrugging aside his disappointment, Contador showed his class by winning both the Tour of Spain and Giro d'Italia, joining a select band of riders to win all three major stage races.
Astana team chief Johan Bruyneel, who guided Armstrong to all his seven previous Tour wins, insists he is happy to have two cycling superstars in his stable.
"If you have just one leader, you play all your cards with that one guy," explained Bruyneel. "Everything depends on his performance and you can also lose everything.
"It happened during the Tour of Spain last year in the last week, Alberto crashed with about three or four days left to go.
"It was a nothing crash and luckily he wasn't injured, but he could have broken a collarbone and everything would have been lost. So we are in a position where we have other cards to play, which is a good thing."
Contador has kept quiet in the lead up to the race, although he has been strongly linked with a possible move to the Caisse d'Epargne team but 1996 Tour winner Bjarne Riis is under no illusions about Contador's chances.
"To me, it's obvious that Astana should have one leader and to me, that leader is Contador," Riis -- whose CSC team won the race last year with Carlos Sastre -- told reporters.
"If I should take a guess, that's the way it is going to be. If they have other plans, then it's going to be funny to watch. Lance is not too old to compete -- maybe to win, but we'll have to wait and see," added Riis.
Defending champion Sastre and Riis have gone their separate ways since last year's victory but both men will have high hopes of being top of the podium again in Paris.
Sastre, who now rides for the newly-formed Cervelo team, has enjoyed a solid year and put in a strong display to finish fourth in May's Giro d'Italia.
The Spaniard is known for his quiet, unassuming manner but -- doubts about his team aside -- he appears to have an outstanding chance of using his excellent climbing skills to put himself in contention again.
A large part of Sastre's success last year was down to the work put in by Andy Schleck and -- with Sastre now moved on -- the 24-year-old Luxembourger has taken over the mantel of team leader of the re-branded Saxo Bank outfit.

With older brother Frank providing a valuable foil, Schleck's undoubted ability marks him down as a future Tour winner, although maybe that time has still not arrived yet.
Russian Denis Menchov impressed everybody with his Giro d'Italia victory but it will be asking a lot to win both the Tour and Giro in the same year -- the late great Marco Pantani was the last man to achieve that particular feat in 1998.
E-mail to a friend