(CNN) -- Belgian Tom Boonen has been granted a shock late reprieve to compete in the Tour de France, which begins in Monaco on Saturday.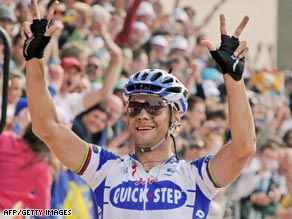 Booned is being allowed to compete in the Tour de France after successfully appealing against his exclusion.
The former world champion had been barred by Tour organizers following a positive test for cocaine, but was cleared to race in a ruling given by the Court of Arbitration for Sport on Friday.
It was Boonen's second failed test in a year. He also missed the Tour in 2008 because he tested positive for the drug in May last year.
"After the decision announced by the CAS on Friday, Tom Boonen will be at the start of the 2009 Tour de France," organizers said in a statement.
"The Tour's management believes that, considering the great champion that Tom is, he will relish the oportunity that has been given to him and he will have an exemplary attitude during the event," the statement continued.
Don't Miss
The positive test for cocaine on April 25 caused a huge uproar in Belgium, where the 2005 world champion has rock star status.
Despite the furor, Boonen's Quick Step team rallied behind their star rider and even threatened to sue Tour organizers if they did not allow him to race.
Cocaine is not considered a performance-enhancing drug and Boonen's tests were not carried out by the sporting authorities.

Boonen appealed to the CAS and after consulting the highest sports authority in France, the French Olympic Committee, the organizers' decision to ban him was overturned.
Boonen won the Tour de France's green points jersey the last time he competed in 2007. He has also won six stages during his career.
E-mail to a friend