Arnold Palmer, one of the greatest players in the history of golf, has exclusively told CNN that the Olympic Games could help to revive the recession-hit sport.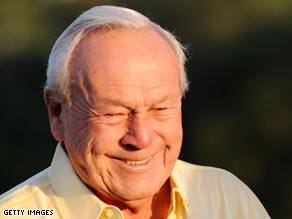 Golfing legend Palmer believes an Olympic golf tournament would be a welcome boost for the sport.
With golf being hit hard by the recent downturn in the global economy, Palmer believes the sport needs all the help it can get if it is to come out the other side of the recession.
Palmer said: "The downturn in the economy has affected many golf clubs and I hope we've reached the bottom on that.
"It is probably being felt most severely in America. I'd like to see that stop and for players to return to the golf course. It's tough right now but I'm sure things will improve.
"Golf has changed so much from when I thurned professional. My main goal was always to increase the awareness of golf and that has happened.
Don't Miss
"In places like India, China, Japan and South and Central America, people are becoming avid golf fans because the climate is perfect for the game.
"Golf is now an international competition and it is bringing people in from all around the world.
"But if golf gets accepted by the Olympic Committee it would be a wonderful thing for the continuing growth of the game. Bringing people together on the course is one of the most important things we can do."
It has been over a century since golf was an official Olympic sport, with George Lyon of Canada claiming the last gold medal in 1904.

Europe's 2010 Ryder Cup captain Colin Montgomerie made a presentation to the International Olympic Committee's executive board in Lausanne on June 15 as golf tries to earn a spot in the 2016 Games.
The IOC will vote on the existing 26 sports on the program -- and the inclusion of two more -- at its session in Copenhagen in October. Golf is vying with karate, squash, rugby sevens, roller sports, baseball and softball for the two spots on offer.
E-mail to a friend