(CNN) -- Mikko Hirvonen moved to the top of the World Rally Championship standings after a comfortable victory at the Rally of Poland on Sunday.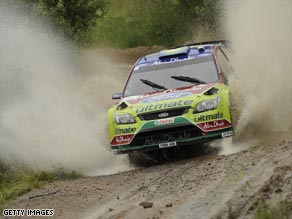 Mikko Hirvonen is trying to prevent Sebastien Loeb from winning a sixth successive world title.
The Ford driver claimed his second successive triumph, winning by more than a minute from Citroen's Dani Sordo to overtake world champion Sebastien Loeb by one point in the drivers' table.
The Finn had trailed Loeb by 20 points three races ago after the Frenchman won the first five events of the season.
"Now I want to win three in a row by winning my rally, in Finland," Hirvonen said. "After everything that happened at the beginning of the season, I never thought that I'd get to Finland at the top of the championship."
Hirvonen went into the final day's five special stages 12 seconds clear of team-mate Jari-Matti Latvala, with Sordo a further 26.5 seconds back in third.
Latvala relinquished his second place on the final stage of the event, having to retire after clipping a barrel on his way into a corner and hitting a metal barrier.
Norway's Henning Solberg claimed third place for Stobart Ford ahead of his brother Petter's Citroen Xsara, while engine failure on stage 16 robbed Citroen Junior driver Sebastien Ogier of a potential podium finish.
Don't Miss
Loeb started the day more than 19 minutes off the lead in 13th place, having smashed his Citroen into a tree stump and broken his front suspension early on Friday, but improved to seventh to at least be among the points.
Loeb, seeking to win a sixth successive world title, won five of the 18 stages compared to Hirvonen's four, while Latvala claimed three and the Solbergs two each.
"I will not say it's a good result but earlier on I didn't expect to take any points here," Loeb said. "The points are very important for me. We don't have too many and maybe they will be very important at the end of the season."
Race results:
1. Mikko Hirvonen (Finland) Ford Focus 3hr 07min 27.5sec
2. Dani Sordo (Spain) Citroen C4) at 1min 10.3sec
3. Henning Solberg (Norway) Ford Focus) 2:05.7
4. Petter Solberg (Norway) Citroen Xsara) 2:24.3
5. Matthew Wilson (Britain) Ford Focus) 4:17.5
6. Krzysztof Holowczyc (Poland) Ford Focus) 4:33.9
7. Sebastien Loeb (France) Citroen C4) 19:15.1
8. Conrad Rautenbach (Zimbabwe) Citroen C4) 19:20.6
9. Evgeny Novikov (Russia) Citroen C4) 19:26.2
Did not finish: Sebastien Ogier (France) Citroen C4; Jari-Matti Latvala (Finland) Ford Focus.

Drivers' standings:
1. Hirvonen 58 points
2. Loeb 57
3. Sordo (ESP) 39
5. H. Solberg 27
6. P. Solberg, Latvala 25
8. Wilson 19
9. Federico Villagra (Argentina), Ogier 13
11. Rautenbach 9
E-mail to a friend

All About Mikko Hirvonen • Sebastien Loeb • Poland • Motorsports