(CNN) -- The England and Wales Cricket Board (ECB) have announced that they have reached an agreement with the Pakistan Cricket Board (PCB) to stage two Test Matches and two Twenty20 internationals between Pakistan and Australia in England next July.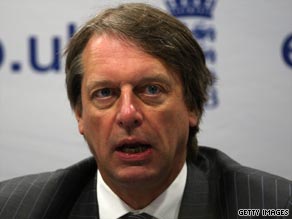 ECB chairman Giles Clarke confirmed that England will host two Pakistan v Australia Tests next year.
The International Cricket Council (ICC) has banned all international cricket in Pakistan because of security fears, following the attacks on the Sri Lankan team earlier this year.
ECB chairman Giles Clarke said in a statement: "The Pakistan team performed outstandingly well in the World T20 tournament in England and were worthy world champions.
"The passion of the support for their team in England demonstrated why this country is an ideal venue for these matches against Australia .
"The warm relations between our two Boards has developed further under the leadership of the current PCB Chairman Ijaz Butt, with whom I enjoy an excellent working relationship, and ECB is delighted to support Pakistan in staging these matches."
ECB and PCB also confirmed that England will host Pakistan for four Test Matches, five one-day internationals and two T20 internationals in August and September of next year.
E-mail to a friend