(CNN) -- United States captain Carlos Bocanegra has praised his side's work-rate and commitment, as he spoke to CNN from the team bus travelling to Johannesburg to take part in this weekend's Confederations Cup final.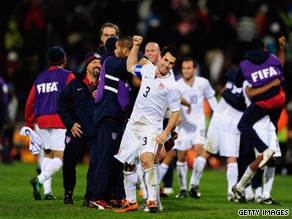 Carlos Bocanegra (No.3) leads the celebrations after the United States defeated Spain 2-0.
Talking to CNN's Sports Anchor Pedro Pinto following the sensational 2-0 victory over European champions Spain on Wednesday evening, Bocanegra said: "We knew it wasn't going to be easy but the guys stuck together and it was really special for us.
"We might not be as technically gifted as other countries but it's something we pride ourselves on -- our work rate. We were unhappy against Brazil because we didn't come out with that as a starting point and we got punished for it but we bounced back against Egypt and got as bit of a break with Brazil beating Italy by three goals.
"We all knew about their unbeaten streak, and we played them last summer so we knew all about them and their quality. But they were the guys with all the pressure on them to be honest -- so we went out there to play our game and play our hardest."
Don't Miss
Speaking about coach Rob Bradley, defender Bocanegra added: "He was really excited for us. It is just something special to be a part of and it's America's first-ever final match so we're all very proud.

Looking ahead to a final showdown against either Brazil or South Africa, Bocanegra said: "We know we can play well against the biggest teams. Wednesday night showed that anything can happen and we go into the match full of confidence.
"We are flying high right now, that's for sure."
E-mail to a friend