By Larry Smith
CNN Sport Anchor






BETHPAGE, United States -- (CNN) -- Phil Mickelson's biggest victory won't come Monday at the U.S. Open. In fact, it won't even come anywhere close to a golf course.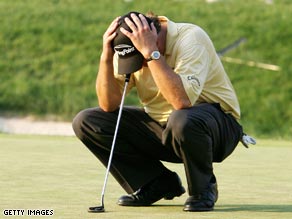 Phil Mickelson holds his head in 2006 as his U.S. Open lead crumbles on the last hole.
One day, he'll raise his fists in triumph and squeeze his kids like never before and shed a few tears when wife Amy defeats breast cancer, and the golf world will offer a misty-eyed smile in approval.
Until then, why not go after his second biggest win? Lefty has long claimed that the U.S. Open is the major he's always wanted to win and he's tired of being a bridesmaid.
That's a record-tying three runner-up finishes, including the disaster at Winged Foot three years ago. With Tiger Woods having missed the cut while mourning his father's death, Mickelson had the spotlight all to himself.
Don't Miss
He had won the last two majors, he was in New York, his admitted golf nirvana, and he had spent countless hours practicing every shot in the twilight hours on the 18th hole of the course. From the rough. From bunkers. From behind trees.
However, all this couldn't prevent his collapse on the tournament's final hole. The errant tee shot that led to a missed bogey putt and the indelible image of a crouching Mickelson, his hands holding his head instead of a trophy.
I wondered back then if he'd ever win another major, well this year I think he can. And judging by his comments after the third round, so does Phil.
Reporter: "Is it easier when playing with a lead?"
Mickelson: "If myself or some other guys...can get a hot hand, the emotion of the event, the momentum can change."
Reporter: "Can you make up the difference?"
Mickelson: "If I get a hot round going, I can get a little bit of momentum."
Reporter: "Is your experience an advantage for you?"
Mickelson: "I feel confident and I'm able to be patient much easier in a challenging event like this."
Get the picture? Mickelson's finished first or second in the last four majors held in the New York area and will have a legion of thousands cheering his every shot.
Ricky Barnes is fading; his six-shot edge early Sunday afternoon melting into an overnight co-leadership with Lucas Glover, leaving Mickelson among a group five shots back.

Amy is watching at home with their three children, preparing for surgery in ten days. She's already told Phil she wants a U.S. Open trophy to be on display in her hospital room.
Soon, she hopes to deliver their greatest victory. On Monday, Phil will take home the next best thing.
E-mail to a friend