By Larry Smith
CNN Sport Anchor






BETHPAGE, United States -- (CNN) -- I'm not sure which is the bigger surprise.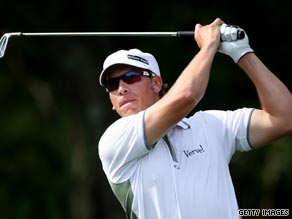 Barnes is the surprise leader of the U.S. Open after posting a 36-hole record score for the tournament.
A) That the U.S. Open was able to finish round two and get the third round underway before more rain hit, or...
B) That the guys atop the leader board on Saturday night could take a stroll down Broadway without turning any heads.
Take out Mike Weir, who stands larger than his 5-9 frame in his native Canada but hasn't cast much of a shadow after his 2003 Masters win, and the rest may be as surprised as we are that they hold such a lofty position.
Ricky Barnes has never been in contention in a major. Yet he carded just one bogey to burn his name in the history books with the lowest 36-hole score in the U.S. Open's 109-year history.
Lucas Glover nearly made the U.S. Ryder Cup team last year and gained some international experience in Presidents Cup play in 2007, but hasn't finished in the top 10 at a major.
David Duval won the British Open in 2001, but hasn't been a force to be reckoned with since.
Japan's Azuma Yano is playing in his first U.S. Open and, like Peter Hanson of Sweden, has never won on the U.S. PGA Tour.
All -- including Weir -- have one thing in common. They played their first two rounds in perfect weather, taking advantage of the luck of the draw to get a leg up on a major championship.
Don't Miss
Holding that edge could prove to be difficult. Heavy rains were expected to drop another inch of rain on a course still soggy from Thursday's deluge, and more precipitation is in the forecast for Sunday, making everyone a bit tougher to recognize under rain hoods and umbrellas.
Even Tiger Woods. The world number one has seemed a bit unnerved this week by the weather, taking off and putting on his rain jacket and sweater vest, trying to find the right fit in his bag after struggling to find it in his game. A far cry from the confident swagger we're used to seeing from the game's greatest.
Woods heads into Sunday at three-over-par, a whopping 11 strokes behind Barnes. Certainly no one expects the leader to keep up such a pace, especially in such wet conditions, and will likely come back to the field.
But can Woods make enough shots, given with nearly two full rounds to play, to pass him on the way down? Woods has made a career -- and a brilliant one at that -- by staying in the chase even when he doesn't have his A-game.
But his chances may have ended before Barnes stroked that lone bogey. That four hole stretch at the end of round one Friday morning, when Woods went from a contending even par to an embarrassing four-over.
Red-faced as he walked off the course, he hasn't been near red numbers since. Usually a single digit score over par would put you in contention at a U.S. Open, but the frequent scoring has made this feel more like a PGA Championship.
This just doesn't seem to be Tiger's time. Perhaps Weir can step up and join the ranks of the multiple major winners. Or Lee Westwood, England's Ryder Cup veteran who made a weekend run at last year's U.S. Open.

Or perhaps it's time for an "unknown" to make a name for himself. In the last five years, there have been more first-time major winners (three) take home the U.S. Open title than any other major.
So, calling Peter Hanson. Ross Fisher. Sean O'Hair. A grand slam event is waiting to be won. Step up and surprise us.
E-mail to a friend