(CNN) -- Max Mosley claims a deal is "very close" to end the damaging row which could see a breakaway Formula One series next season.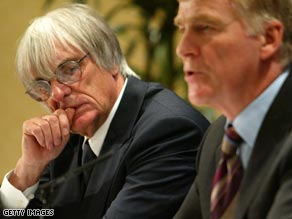 F1 supremo Bernie Ecclestone (left) and FIA chief Max Mosley have been in urgent talks with F1 teams.
FIA president Mosley spent Sunday at the British Grand Prix locked in talks with members of the teams who have rebelled against plans by world motorsport's governing body to impose a budget cap and other rule changes.
Eight teams from the Formula One Teams Association (FOTA) claimed late on Thursday that they would set up the rival series.
Mosley upped the ante when he began legal proceedings against Ferrari, McLaren, Renault, BMW Sauber, Toyota, Brawn GP, Red Bull Racing and Toro Rosso on Friday.
But the mood appeared to change on race day at Silverstone as Mosley arrived by helicopter with F1 supremo Bernie Ecclestone and Renault chief Flavio Briatore.
After several hours of talks, Mosley appeared upbeat about the prospects of a deal. "We are talking to people all the time. It will all be back to normal, it's just a question of when," Mosley told Press Association.
"We are very close. What divides us and the teams is minimal and really is something we could sit down and iron out very quickly."
Don't Miss
The key to a deal could be the attitude of Ferrari chief and FOTA chairman Luca di Montezemolo, who has led the opposition to the budget cap.
"Montezemolo and I have known each other nearly 40 years and I get along with him fine on a personal level," said Mosley.
"Flavio (Briatore) is also great on a personal level, but obviously sometimes when you have something as complex as Formula One you can have disagreements about how things operate within the sport," he added.

The current crisis stems from controversial plans by the Mosley-led FIA to impose a budget cap of $60M for competing teams in 2010.
At the moment, only five teams have committed to racing in next season's championship: Williams and Force India, who were expelled from FOTA for agreeing to participate, and new teams Campos GP, Manor F1 and Team US F1.
E-mail to a friend