By Larry Smith
CNN Sport Anchor






BETHPAGE, United States -- (CNN) -- So much for being afraid of the "monster" that is Bethpage Black.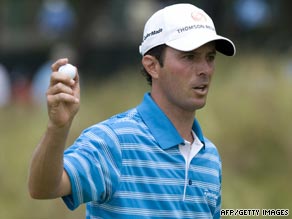 Mike Weir's opening round six-under-par 64 was the lowest U.S. Open round since 2003.
On Friday, the second longest layout in U.S. Open history was toyed with as if it were one of the other four public courses at the New York state park.
Thursday's rain that washed out all but three hours of play created a quirky Friday schedule that resulted in only seven holes of golf for some and as many as 33 holes for others.
It seemed that the more golf played on Friday; the better the score. Of the top 16 golfers on Friday's overnight leaderboard, only two began their tournament before Thursday's weather delay.
That duo -- Northern Ireland's Graeme McDowell and 2007 British Amateur champion Drew Weaver -- completed their opening rounds as clubhouse leaders, but now stand five off the pace while sitting and waiting to return to the course.
Those who played the most on Thursday played the least on Friday.
Don't Miss
The sun broke through the clouds in the afternoon and chased away darkness and demons alike.
Former Masters champion Mike Weir of Canada fired eight birdies to fashion a six-under-64, the best round the U.S. Open has witnessed since 2003, the year Weir won his lone major.
Former U.S. Presidents Cup performer Lucas Glover has never made the cut at the American national championship, yet he took a one-shot lead into the night.
Sweden's Peter Hanson is one shot back in his quest to become Europe's first U.S. Open winner since Englishman Tony Jacklin 39 years ago.
Critics who claim that Tiger Woods gets every break have nothing to complain about this week.
While half the field was enjoying a lawn party in the afternoon sun, Woods could do nothing but watch. The defending champion struggled to a four-over-par 74, one of his worst opening rounds ever at the U.S. Open.

Woods was even par through 14 holes, but a double bogey on 15 followed by bogeys on 16 and 18 left him five shots back before the sun emerged and the scoring in red numbers began. The world's top golfer isn't scheduled to return to the course until Saturday morning,
The forecast for the weekend calls for more rain and, most likely, more delays and even wetter surfaces. That should make scoring difficult and unleash the monster.
E-mail to a friend