By Larry Smith
CNN Sport Anchor






BETHPAGE, United States -- (CNN) -- There's a new game at the U.S. Open, and speed is the key -- play as much golf as possible when possible before getting caught in game-stopping rain.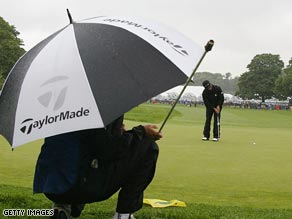 A caddie (L) watches as Japanese golfer Hidemichi Tanaka (R) putts for par in the rain.
With half of the 156-man field yet to tee off, officials will scramble to squeeze as many holes in as possible on Friday, to try and complete the first round and attempt to get deep into the second round before the day is out.
If this can be achieved then the major hurdle of the weekend's weather forecast needs to be cleared. Saturday could be the worst hit of the days, with conditions that would mirror Thursday's monsoon, when more than half an inch had fallen on the Bethpage Black course before noon.
That could push the finish of the second round to Sunday morning, with 36 holes still to play to determine a winner.
USGA officials are ready to do just that. Traditionally they have not shortened any of their championship events due to weather, and have already announced that policy will stand here as well.
If rain blights the weekend the tournament could be pushed over to Monday. One more thing to keep in mind: the U.S. Open is the only major golf tournament that does not go to a sudden death playoff to break a tie after four rounds are complete.
Don't Miss

Instead, an 18-hole playoff is staged (remember Tiger Woods and Rocco Mediate's 19-hole showdown a year ago at Torrey Pines?) and if the weather is too soggy, that might not take place until next Tuesday.
With a track that's guaranteed to be soggy throughout the tournament, only the best ball strikers figure to be in contention at the end. Bethpage Black is a notoriously difficult course without the thick rough and narrowed fairways of the U.S. Open. Pour in the rain and the final mix is a survival of the fittest.
E-mail to a friend