By Larry Smith
CNN Sport Anchor






BETHPAGE, United States -- (CNN) -- Defending U.S. Open champion and world number one Tiger Woods may be the player that everyone is watching, but the Tiger's great rival Phil Mickelson is the man who is grabbing everybody's heartstrings here at Bethpage Black.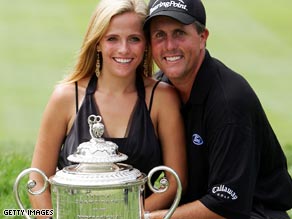 Phil Mickelson poses with his wife, Amy, after winning the 2005 PGA Championship.
The Californian has long been a New York favorite; he has won or finished second in the last four majors played in the east coast area of America.
But with wife Amy staying home as she prepares to undergo treatment for breast cancer in two weeks, the player dubbed "Lefty" will be competing at the upcoming U.S. Open without his normal support base. Do you think Mickelson can win?
Mickelson addressed the world's media on Wednesday morning to say that he and Amy are optimistic about her treatment but as a consequence, the second best player in the world is expected to take time away from golf to be at her side.
Don't Miss
It means The Open in Britain may be withut one of the game's biggest stars when it takes place on July 16. Personally speaking, I don't know anyone who doesn't think Amy Mickelson is someone special and not just because she's married to one of golf's biggest superstars.
I remember talking to the two of them, after Mickelson's Masters win in 2006, about how much he was looking forward to the U.S. Open at Winged Foot. Amy nodded in agreement as her husband expressed his dream of winning the one title he has always wanted; the national championship.
Two months later, as he bravely faced the questions of the media moments after his devastating 72nd hole collapse which cost him the major title; Amy stood by his side, cordial to all, comforting to him.
Now, Mickelson hopes the support of thousands of well-wishers can make up for her absence. Amy has given him several notes and texts saying how much she would love to have a silver trophy -- a U.S. Open trophy -- in her hospital room next month. Not that he needed it, but never has he had greater incentive to bring home a win.
E-mail to a friend