(CNN) -- Thursday's play at the 109th U.S. Open golf tournament at Bethpage Black has been cancelled for the day because of heavy and persistent rain which left the New York course completely saturated.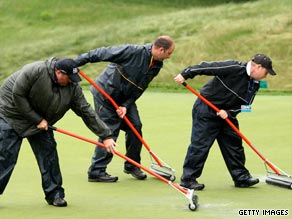 Bethpage Black green keepers attempt to get water off the course as heavy rain engulfs the U.S. Open.
The opening round begun with dark clouds and a gusting wind making life difficult for players and supporters alike.
Rain then gradually started to fall and offficials eventually called the field in at 10:15am local time, with players allowed to complete their rounds before returning to the clubhouse -- and they never returned to action.
Half the field of 156 have yet to start, including Phil Mickelson, a fans favorite at Bethpage in his last event before wife Amy undergoes breast cancer surgery early next month, and Northern Ireland's Darren Clarke.
"The volume of rain falling was outpacing our ability to squeegee the greens," said USGA championship committee chairman Jim Hyler. "The greens just became unplayable."
Don't Miss
Tournament officials had hoped for a break in the weather as the day wore on but heavy showers continued and rain was expected to extend at least to Monday with thunderstorms at the weekend.
"Based on the amount of time we're losing, I don't think there's any way to catch up and make the cut on Friday," Hyler added.
A group of four players; Johan Edfors, Jeff Brehaut, Andrew Parr and Ryan Spears led the way on one-under-par when play was suspended.

World number one and defending champion Tiger Woods was two shots off the lead on one-over-par after playing six holes, while two bogeys and a double bogey had British Open and PGA champion Padraig Harrington struggling on four-over-par after six holes.
Woods is seeking his 15th major title, which would put him three shy of the career record of 18 won by Jack Nicklaus, and a fourth U.S. Open crown to match the record held by Nicklaus, Ben Hogan, Bobby Jones and Willie Anderson.
E-mail to a friend