By Peter Wilkinson





(CNN) -- The problem with Twenty20 though is that the "script" of every match is so predictable. Most limited-overs matches between two similarly matched teams go to the brink.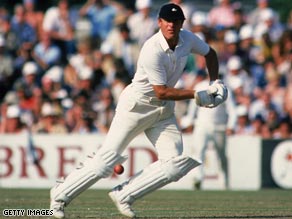 Geoffrey Boycott in Testing circumstances
And the tactics are so simple: slog lots of runs and bowl as defensively as possible. All good crowd-pleasing stuff of course.
And let's not forget that limited overs cricket took off in England in the 1960s and 70s in response to some pretty dreary test games, many featuring Geoffrey Boycott, the all-time king of stubbornly preserving his wicket ahead of scoring runs or entertaining thousands of cricket fans who had all nodded off.
Admittedly Twenty20 is the logical progression of limited-overs cricket and it has captured the attentions of young enthusiasts.
But when they grow up and start to take an interest in Test cricket, they will realize what a compelling game it is.
Quite simply, no other sport can serve up the twists and turns of a fine Test match. Just think of Headingley 1981, one of the most exciting games in the history of cricket.
England were so far behind that two Australian players put money on an English victory at 500-1 and on Monday morning they booked out of their hotels, believing the match was lost only for all-rounder Ian Botham to inspire an England comeback that ranked up there with Lazarus.
More recently in the Ashes contest of 2005, England were 2-1 up with Shane Warne at his most menacing. But a majestic Kevin Pieterson and Ashley Giles kept the spinner at bay for the whole of Monday afternoon to secure a series-winning draw.
Would this amazing shift of fortunes have been possible in Twenty20? Of course not. This is not to say that every Test is riveting. Most are not, but if watching sport is about the anticipation, rather than the delivery, of excitement, then you can't beat Test cricket, played out over five days.
Cricket commentator Henry Blofeld summed it best in this quotation: "One-day cricket is an exhibition. Test cricket is an examination."
E-mail to a friend