(CNN) -- Veteran American golfer, Kenny Perry, has told CNN he is focused on winning this year's U.S. Open at Bethpage Black because time is running out on his career.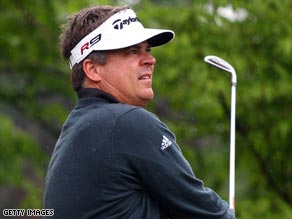 Veteran golfer Kenny Perry is in buoyant mood ahead of the U.S. Open at Bethpage Black.
The 48-year-old who played his first professional tournament at the Doral-Eastern Open in 1984, said he wanted to win a major before ending his career next year.
"My time is running out, I'll play all four [majors] next year but that will be that after so long on the tour. So there's definitely a sense of urgency that I need to win one soon," Perry said.

Watch Kenny Perry's interview with CNN ».
Despite winning 13 PGA Tour events over an impressive career, the closest Perry has come to winning a major was in 2009 when he led at the Masters on the final day before losing a three-way play-off with eventual champion, Angel Cabrera of Argentina and compatriot Chad Campbell.
The hitter from Kentucky finished in 45th place at the U.S. Open when it was last held at Bethpage in 2002, a year in which Tiger Woods was the only player to hit under par. A guide to the U.S. Open hotshot players.
However, despite his bruising experience on the punishing course, Perry is optimistic about his chances this time around: "Last time round I played in some heavy weather, I don't even remember a birdie hole.
Don't Miss
"But this time it's going to be interesting because I like how they've graduated the rough this year, last time round it was unplayable. I know it's an old cliche but I'm just going to playing one shot at a time.
"The U.S. Open is always more of a driver test with heavy rough and tight fairways. To me the U.S. Open is the toughest test of all the four majors.
"Last summer I won three times in four weeks and nearly won the Masters, which kind of is the way I am. When I get on a streak I can win a few tournaments straight. This year I'm really not on a streak, so hopefully Bethpage is where I can start a new one," Perry added.

Tiger Woods has attracted a lot of attention since his return to the fray following a long-standing knee injury, and Perry told CNN the world number one and three-times U.S. Open winner was still the main threat for the title.
"After Tiger's win at The Memorial and the fact he is defending champion, he's definitely the man to beat at Bethpage. I played a skins game with him at Muirfield and saw him up close, he's driving beautifully and I think his swing is more in tact that it has been in the past. He's definitely the one to beat."
E-mail to a friend