(CNN) -- Usain Bolt kicked off his European track campaign with a blistering performance over 100 meters in Ostrava on Wednesday night.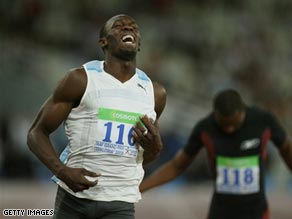 Bolt again looks the man to beat in the 100 meters this season.
The triple Olympic champion clocked 9.77 seconds with a following wind just over the legal limit of 2 meters per second.
Bolt, who sustained minor injuries in a car crash in his native Jamaica ahead of the season, finished well clear of second-placed Craig Pickering of Britain who ran 10.08 seconds.
His fellow Jamaican Asafa Powell set the meet record of 9.85 seconds four years ago and that still stands because it was run inside the legal wind limit.
The 22-year-old Bolt broke the world records of 100 and 200m in the Beijing Olympics last year before helping Jamaica to gold in the sprint relay.
Don't Miss
He is building up to another triple gold attempt at the world championships in Berlin in August and on the evidence of his early showing and a run over 150m in Manchester last month is in superlative form.
In other highlights of the meet in the Czech Republic, Olympic 110m hurdles champion Dayron Robles of Cuba went to the top of the world rankings with an impressive time of 13.04.
Bershawn Jackson, the Olympic 400m hurdles bronze medallist, also set the best time in the world this year when winning comfortably in a time of 48.32 from former world champion Felix Sanchez of the Dominican Republic.
Haron Keitany of Kenya won the mile in three minutes 49.57 seconds from Britain's Andy Baddeley.
E-mail to a friend