(CNN) -- Kazakh cyclist Alexander Vinokourov will be free to launch his competitive comeback before the end of next month following a Court of Arbitration for Sport (CAS) ruling in Switzerland on Tuesday.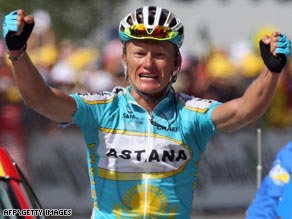 Kazakh rider Vinokourov will be free to resume competitive cycling before the end of next month.
Vinokourov was originally suspended for one year by his federation (KCF) after the pre-race favorite was thrown out of the 2007 Tour de France for blood doping.
The International Cycling Union (UCI) disputed the length of the ban which should have been for two years under their rules.
Parties involved agreed the issue should go to arbitration and Vinokourov, who 'retired' after being banned, has now been told his ban will be for two years.
This year's Tour de France runs from July 4-26 while Vinokourov has been told by CAS he can resume competitive action two days before the race ends in Paris.
Vinokourov has said he wants to launch a comeback, preferably with Astana alongside Lance Armstrong and Alberto Contador.
"My dream would be to win the world championship and wear the rainbow shirt for my last year in 2010," he said last month.
Swiss-based CAS issued its preliminary decision in the arbitration between the UCI, Vinokourov and the KCF in a Web site statement on Tuesday
CAS said: "The decision adopted on 5 December 2007 by the Anti-Doping Commission of the Kazakhstan Cycling Federation is set aside.
"Mr Vinokurov committed an anti-doping rule violation under Articles 15.2 of the Anti-Doping Regulations of the Union Cycliste Internationale and, according to Articles 261, 268 and 275 of the Anti-Doping Regulations, is declared ineligible for a period of two years commencing on 24 July 2007.
"Mr Vinokurov will be eligible to compete in international competitions as of 24 July 2009."
E-mail to a friend