(CNN) -- Hosts England crashed out of the World Twenty20 at The Oval on Monday following a rain-affected defeat to West Indies who progressed to the semifinals.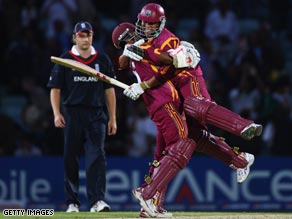 Ramnaresh Sarwan and Shivnarine Chanderpaul jubilate after West Indies reach the World Twenty20 semis.
Showers in south London meant the West Indians faced a revised target of 80 in nine overs and they got home by five wickets with four balls to spare, with Ramnaresh Sarwan hitting the winning boundary.
England posted 161 for six after opting to bat first with Ravi Bopara hitting a maiden 20-over international 50 and Kevin Pietersen cracking 31 from just 19 balls.
And they enjoyed immediate successes following the rain delay when West Indies finally emerged for their reduced run chase.
Breakthroughs came in each of the first three overs and there was another brilliant stumping by wicketkeeper James Foster to dismiss dangerman Dwayne Bravo.
However, Chris Gayle's tourists recovered to claim their first win in five attempts against England this summer.
Skipper Gayle was delighted with the victory after being trounced in the recent Test and one-day series, telling Sky Sports 1: "I'm so emotional about this victory for the guys with the efforts they put in. It was a good overall performance."
He added: "In nine overs, anything could have happened. Credit to England for the way they started but we pulled it back there.
"One more good game and we're in the final. We've been written off so it's good to be in the semifinals."
Gayle disagreed that the revised target helped his side, adding: "I think 160 was definitely gettable, we didn't see any reason why we couldn't get the runs."
Ramnaresh Sarwan was named man of the match for his 19 from nine balls which, in partnership with fellow stalwart Shivnarine Chanderpaul, saw the Windies home.
"We were pretty confident and what played out was the experience of myself and Shiv," he said. "We just tried not to panic."
Pakistan captain Younus Khan hit out at the extra scrutiny of his team in the aftermath of recent ball-tampering allegations, as they reached the last four with a win over Ireland.
New Zealand made an informal complaint to the match officials after seamer Umar Gul claimed five for six during Saturday's triumph at The Oval, but they reported nothing untoward had happened to the ball.
Don't Miss
According to Younus, it did not stop umpires Rudi Koertzen and Rod Tucker examining the ball regularly as Pakistan cruised into the semifinals with a 39-run victory on their return to The Oval on Monday.
"We're not cheating and today was very embarrassing with the umpires checking the ball all the time," said Younus. "Sometimes it is very embarrassing because there are a lot of cameras so how can we cheat?"
Saturday's controversy came three years after Pakistan refused to continue the final Test against England at the same ground because umpire Darrell Hair had also accused them of ball-tampering.
Pakistan were cleared of any ball-tampering following an ICC hearing, but on their first return to English soil the controversy has raged once again.
"Why does this happen all the time in England?" asked Younus. "Don't talk about a bowler like Umar Gul because he has a good reputation. Why is it always about Pakistan?
"I think we should forget about this thing and just focus on the game. There are a lot of cameras so why didn't the cameras catch us doing something?
"In this cricket there are a lot of sixes and the ball goes into the crowd a lot so the ball changes like that. It is an art actually, it's not cheating."
Pakistan must wait for Tuesday's encounter between Sri Lanka and New Zealand to determine whether they top the group and play in Thursday's first semifinal in Nottingham or the second semifinal at The Oval the following day.
E-mail to a friend