(CNN) -- Rafael Nadal has not given up on defending his Wimbledon crown and will travel to London next week as he battles persistent knee problems.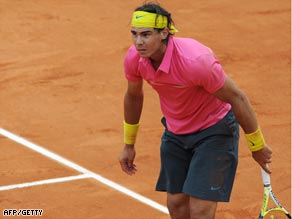 Nadal went out tamely to Robin Soderling in his French Open title defense.
The world number one has undergone two days of medical tests in Barcelona amid fears he would be forced to miss the grass court grand slam.
But he told his personal Web site www.rafaelnadal.com that he was determined to return to SW19.
"I am going to give my 200 percent to be ready for the most important tournament in the world.
"I will not go out and play, especially on the Wimbledon Centre Court, if I am not 100 percent ready to play.
"I have been playing with pain on my knees for some months now and I simply can't go on like this. The pain was limiting certain movements in my body, which affected me mentally as well."
Nadal, who suffered a shock defeat to Robin Soderling in the fourth round at the French Open, promptly withdrew from the major warmup event at Queen's Club this week and confirmed that, for now, on court practice was out of the question.
"I have two difficult weeks ahead of me, especially because I won't be doing what I like doing most, which is to play tennis, but I will be working on my recovery through physiotherapy treatments as well as recovery work on the specific muscular area," he added.
Don't Miss
Spanish Federation doctor Angel-Ruiz-Cotorro was also quoted on Nadal's Web site saying that the world number one was suffering "insertion tendonitis" in both knee caps.
Nadal was bidding for his fifth straight French Open crown on the clay of Roland Garros, but was clearly below-par as he went out tamely to eventual runner-up Soderling.
Tennis fans have been anticipating a repeat of last year's classic Wimbledon final as Nadal took the title from Roger Federer in a five-set thriller.
Nadal also beat the Swiss maestro in another five-set final at this year's Australian Open, but after his exit Federer won the French Open crown for the first time on Sunday.
Nadal said he would come to England on June 16 but will not be able to play a competitive match ahead of the start of the Wimbledon championships on Monday June 22.
E-mail to a friend