(CNN) -- England suffered their biggest humiliation in limited-overs history as they were defeated by minnows Netherlands in the opening match of the World Twenty20 tournament on Friday.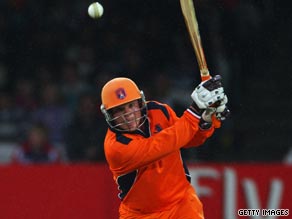 Tom de Grooth smashed 49 for the Netherlands as they claimed a stunning victory over England.
The Dutch claimed victory by four wickets in the rain at Lord's to send their 1,000 fans wild.
The result has left England's hopes of progress to the latter stages of the competition in grave doubt -- they must now beat Pakistan in their second Group B match at the Oval on Sunday to stand any chance of reaching the next stage.
Requiring just seven from the final over, in pursuit of 163, the Netherlands scrambled five singles to reduce the equation to two off the final ball.
Edgar Schiferli's dribbler went straight back to Stuart Broad, but the bowler, who had bodged two previous run out chances in the over, inexplicably missed with an under-arm shy at the stumps and the Dutch seized upon the overthrow.
England's lack of firepower in the second half of their innings led to one of the biggest upsets in cricket history -- they only mustered 73 in the final 10 overs --having reached halfway at 89 without loss.
Ravi Bopara (46) and Luke Wright (71) eventually put on 100 for the first wicket for England, but they struggled to finish on 162-5. They were also outmuscled by their amateur opponents, who won the six-hitting count four to none.
Tom de Grooth smashed 49 and Peter Borren 30 for the Netherlands as the minnows deservedly secured a stunning victory.
E-mail to a friend