(CNN) -- Triple Olympic champion Usain Bolt is looking forward to going head to head with Tyson Gay after a stunning performance by the double world champion at the weekend.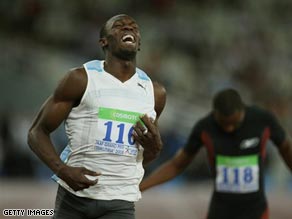 Bolt has shown strong early season form despite a car crash in April.
Gay, who claimed the 100-200 double in Osaka, ran 19.58 seconds for the longer sprint at a grand prix event in New York on Saturday.
It was the third fastest 200 run over 200 meters, only beaten by Bolt's 19.30 in Beijing and Michael Johnson's 19.32 seconds from the Atlanta Olympics.
"I am not surprised because Tyson Gay is a very determined competitor," Bolt told the official IAAF Web site www.iaaf.org.
"I am looking forward to go out there and do my best as always," Bolt added as he targets this year's world championship in Berlin from August 15-23.
Don't Miss
"I definitely would want to meet Tyson before the world champs to see where I am at. I am looking forward to that showdown," he added.
The pair are scheduled to meet ahead of their Berlin clash, but the global championships will offer the ultimate test.
"It's going to be a battle with Tyson Gay, because he is not a person to give up," Bolt said.
The Jamaican superstar, who received minor injuries in a high-speed car crash at the end of April, returned to action at a special 150-meter race in Manchester, setting a new world best for the rarely run distance.
E-mail to a friend