(CNN) -- Christian Cevaer is celebrating a remarkable turnaround in his fortunes after landing the European Open title at the London Club.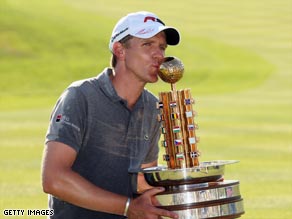 Cevaer was relieved to get his hands on his first trophy since 2004.
The 39-year-old Frenchman was down at 449th in the world rankings and considering his future in the game before picking up a $450,000 winning check and a five-year European Tour exemption.
"Wow," Cevaer told Press Association, who is waiting the birth of his second child in a few weeks time.
"I am ecstatic to come out on top. I am in a fabulous job but there are hardships and now I have peace of mind.
"Especially with these economic times, I am sure we are going to be a lot more careful with our money. No sports car or any stuff like that."
Cevaer, who had been troubled by bowel trouble in the build up to the tournament in Kent, had not won since the 2004 Spanish Open.
But he kept his nerve on the final day to win one shot from England's Steve Webster, Scot Gary Orr and Spaniard Alvaro Quiros.
In difficult conditions his final round of 74 was the highest final round by a winner all season, and with a seven-under-par total that was 13 strokes worse than Ross Fisher's score last year.
The final hole a 471 yard par-four proved the decisive factor, one of the toughest tests in golf.
During the week it played to an average of nearly 4.7, with 154 bogeys, 48 doubles and 26 sevens or worse, but Cevaer parred it the first two days, birdied it in the third round and finished with the par he needed.
Webster and Quiros both bogeyed it, Quiros after hitting spectators with both his wild drive and his second over the green.
E-mail to a friend