(CNN) -- Multiple Olympic gold medalist Michael Phelps was upstaged for the second successive night when he finished runner-up to Freddie Bousquet in the 100m freestyle final at the Charlotte Ultraswim meet in North Carolina on Sunday.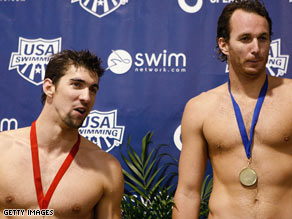 Michael Phelps stands on the podium with Aaron Peirsol after the men's 100m backstroke final on Saturday.
Phelps, 23, was returning to competition for the first time since his record-breaking eight gold medal-winning haul at last summer's Beijing heroics.
He had won the 200m freestyle and the 100m butterfly finals on Friday night but was runner-up to world record holder Aaron Peirsol in the 100m backstroke final on Saturday.
Resuming his search for a third gold medal of the meet, the 23-year-old Phelps again had to settle for silver, behind Frenchman Bousquet.
Phelps had qualified equal fastest with fellow American Ricky Berens in the preliminaries with Frenchman Bousquet, the 50m free world record holder, fourth fastest behind Cullen Jones.
Bousquet, who had won the 50m free the previous night, got off to a strong start and was a full body length ahead of Phelps at the turn, made in a world-record paced 22.83 seconds.
Phelps, the only finalist not in a full body suit, rallied over the final 50m but could not reel in Bousquet who clocked a meet record 48.22 seconds with Phelps second in 49.04.
"I'm not disappointed with my times, but my finishes were awful," Phelps said when asked to reflect on the meet as a whole.
"So there are small things I need to work on but overall it was a pretty good meet.
"I didn't expect some of these times but I'm back on track and from here I head to (the US Olympic training centre at) Colorado Springs for three weeks and I'm looking forward to that."
Phelps return to the pool follows a three-month suspension from organized competitive swimming after a photo surfaced in February showing him holding a bong, a device commonly used to smoke marijuana.
Before the meet, Phelps said he was looking forward to the competition after completing his suspension.

Watch Phelps talk about his return »
Speaking to reporters, Phelps reiterated what he said was his "bad judgment" and a "very stupid mistake."

Watch Phelps discuss being wary of his surroundings »
He had admitted "regrettable behavior" before, just after the tabloid News of the World showed him with a bong during what it said was a November party at the University of South Carolina in Columbia.

South Carolina authorities investigated Phelps and said he will not face criminal charges in connection with the party.
U.S.A. Swimming, the governing body for competitive swimming, suspended him for three months, withdrew financial support and barred him during the period of his "reprimand."
E-mail to a friend

All About Michael Phelps