(CNN) -- Michael Phelps made a winning return to competitive swimming when he landed the 200 meters freestyle and 100m butterfly finals at the Charlotte Ultraswim meet in North Carolina.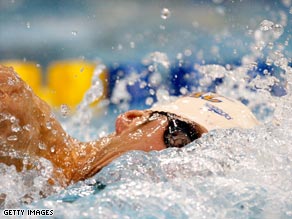 Phelps won two events on his competitive return after completing a three-month ban.
Phelps was back in the pool for the first time since last summer's Beijing Olympics, when he won a single-Games record eight gold medals, and since completing a three-month suspension imposed by USA Swimming following the publication of a picture apparently showing him using illegal drugs.
The American had been comfortable in qualifying third fastest during the morning 200m freestyle heats and won his 100m butterfly heat at the Mecklenburg County Athletic Centre.
Phelps, 23, returned eight hours later and immediately set about improving on his qualifying time of one minute 50.46 seconds in the 200m free final.
The world record holder was quickest off his block and straight into a lead he would not surrender in an event in which he possesses four of the fastest five times in history.
Fellow-Olympian Peter Vanderkaay gave Phelps something to think about with a late rally but the Beijing gold medalist held off the challenge for a meet record time of one minute 46.02 seconds.
Phelps stayed in the warm-up pool between races and returned for the 100m butterfly final less than an hour later, having qualified in the morning with a victory in 53.41 seconds, from Beijing team-mate Aaron Peirsol, who clocked 53.51 seconds.
In a tougher race for the Baltimore swimmer, New Zealand's Corney Swanepoel and American Tyler McGill both beat him to the turn but Phelps surfaced in front with a slight lead and pulled away from the field to win in another meet record time of 51.72s. McGill made it an American one-two with Swanepoel third.

"Tonight I was actually really surprised," Phelps told Universal Sports Television. "Bob (Bowman, his coach) and I talked about maybe being five seconds off (in the 200 free) but to be three and a half seconds of my best time I'm pretty happy about that.
"Then coming back (for the 100 fly) and being a little bit over a second outside my best time I'm really pleased. We're in OK shape from day one so now we'll see what we have to do for the rest of the week."
E-mail to a friend