(CNN) -- Late finisher Justin Leonard and early starter Paul Goydos share the first round lead in the Texas Open after both carded seven-under-par 63s around the Resort Course at La Cantera near San Antonio.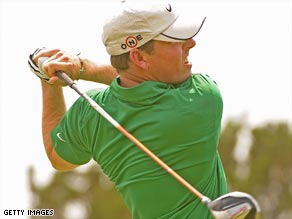 Leonard posted a blemish free round to share the lead after the Texas Open first round.
The American duo have a one-stroke advantage over Australia's Marc Leishman and fellow-Americans Ted Purdy and Jeff Maggert.
Texan Leonard told Press Association Sport that he had begun his round late in the day under pressure not to fall too far behind.
"I was just really happy with today, to get off to a great start, and you know, when somebody goes out and shoots seven-under in the morning, in the afternoon you know you need to play a good round because you don't want to have to play catch-up too much," Leonard said.
The former British Open champion exceeded his demands with a bogey-free round, pulling level with Goydos at the last by chipping in for birdie out of greenside rough from 21 yards.
"Just a great start," the US Ryder Cup star said. "I was able to hit the first green in two and had a 20-foot two-putt for birdie. I had a very nice finish as well and played pretty solid in between."
E-mail to a friend