(CNN) -- World championship leader Jenson Button was completely dominant at the Spanish Grand Prix Sunday.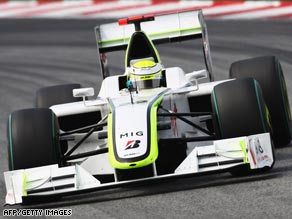 Jenson Button has won four of the five races held this season and leads the championship.
Button led a Brawn GP one-two, with teammate Rubens Barrichello finishing second after starting third on the grid and running strongly at the start.
Red Bull's Mark Webber finished third ahead of teammate Sebastian Vettel in fourth
Home hero Fernando Alonso in his Renault claimed fifth while Brazilian Felipe Massa was sixth in his Ferrari, despite running out of fuel on the final lap and coasting over the line.
Germans Nick Heidfeld of BMW Sauber and Nico Rosberg of Williams were seventh and eighth in the final points positions.
Button has now triumphed in four of the five races so far this season and leads the title race with 41 points from Barrichello on 27 and Vettel with 23.
Brawn GP also lead the constructors' championships as the traditional teams -- Ferrari and McLaren -- continue to struggle.
It was another ugly day for reigning world champion Lewis Hamilton, who finished well off the pace in ninth in his under-performing McLaren.
He was clearly upset with the performance of his car following the race, telling reporters that he had been driving his "heart out" for no reward.
Hamilton said he could not do anymore than he was doing, and the car was "that bad" he held little hope of retaining his title.
Don't Miss
Button, however, was beaming, saying his latest triumph gave him "a lot of confidence" as the championship moves on to Monaco.
"I'm so happy -- once you start winning it is such a great feeling," added the Briton, who has had to play second fiddle to compatriot Hamilton until a remarkable reversal of fortunes in F1's established order.
"Last year, it felt just the opposite. But when it goes well, it really goes well doesn't it? I'm on top of the world now compared to last year. But I have to say that the whole team did a magnificent job."
There was drama at the start of the race at the Circuit de Catalunya in Barcelona as a mass pileup on the second corner saw Jarno Trulli's Toyota going off and then spinning back on to the track to end the chances of other drivers.
The Toro Rosso cars of Sebastien Buemi and Sebastien Bourdais plus Trulli and Adrian Sutil's Force India went out and the race only resumed after five laps behind the safety car.
E-mail to a friend