(CNN) -- Boxing idol Manny Pacquiao is returning to the Philippines despite a request from Manila that he delay his hero's return as a precaution against the spread of the H1N1 virus, commonly known as swine flu, from the United States, his spokesman told CNN Wednesday.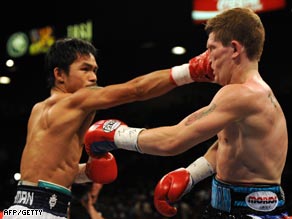 Pacquiao lands a solid right to Hatton on his way to a comprehensive victory.
Pacquiao, often considered the best pound-for-pound boxer in the world, cemented his reputation Saturday night when he knocked out British boxer Ricky Hatton in the second round of a match in Las Vegas, Nevada.
Pacquiao's spokesman, Joe Ramos, said that the boxer was boarding a plane in Los Angeles for the trip back to the Philippines, where he is expected to land at about 5 a.m. Friday (5 p.m. ET Thursday).
Ramos said homecoming parades are planned for Friday and possibly Tuesday.
The 30-year-old is a national hero in the Philippines, where his bouts bring the country to a standstill. The nation planned a "national day of celebration" for him on Friday.
Don't Miss
However, the country's health secretary on Wednesday told Pacquiao to go into self-quarantine, either in Los Angeles, California -- where he went with his family after his victory -- or in Manila. It means any celebration will have to be delayed.
Health Secretary Francisco Duque said the orders come after the World Health Organization confirmed a third-generation human-to-human transmission of the H1N1 virus, as swine flu is officially known.
"Essentially the recommendations are two," Duque told CNN. "One is that Manny Pacquiao imposes self-quarantine beginning today in Los Angeles and postpone his trip back to Manila for Monday. And then the other option is if he can't do that, he has to be quarantined here. He has to be told to impose self-quarantine as soon as he arrives in Manila."
The orders are the same for any traveler coming from Los Angeles, Duque said.
Ramos did not comment on Duque's statement that Pacquiao must be quarantined in the Philippines if he returns.
After five days, if Pacquiao is not displaying any signs or symptoms of the flu, he can leave quarantine, said Dr. Eric Tayag, director of the country's national epidemiology center.
The virus has an incubation period of seven days. Symptoms of swine flu are not apparent during the incubation period, and a seemingly healthy-looking person can pass it on during that time.
The Filipino government is concerned that the Pacquiao motorcade could spread the virus to someone in the crowd during the rally if any one in his entourage is infected.
The Philippines has not reported any confirmed cases of the H1N1 virus. But officials there are worried about the number of cases of the virus confirmed in California.
By Wednesday, the Centers for Disease Control and Prevention (CDC) had reported 49 confirmed cases in the state out of a total of 403 cases in 38 states.

Nicknamed "Pacman," he grew up poor in General Santos City in the southern Philippines. He found boxing as a way to lift himself to fame and riches, yet he remains self-deprecating outside of the ring.
It is this combination of being a fierce fighter in the ring and a smiling deferential one outside that has helped turn him into an idol.
E-mail to a friend

CNN's Saeed Ahmed contributed to this report.
All About Boxing • Sports • Manny Pacquiao