(CNN) -- The Chicago Bulls and Boston Celtics will contest a deciding Game 7 on Saturday after a first round playoff series which many commentators are describing as the greatest in basketball history.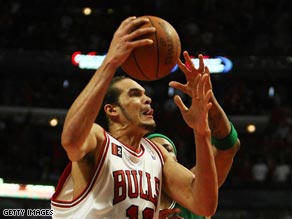 Noah goes up for a dunk with Paul Pierce challenging.
Reigning NBA champions Boston will have home court advantage but the underdog Bulls have captured the public's imagination after a 128-127 triple overtime triumph on Thursday night.
It was the fourth game of the series to go to overtime, an NBA record, with the eventual winners going through to face the Orlando Magic in the second round.
Boston's Ray Allen scored a career-high 51 points, but even his brilliant play could not get them past the tenacious Bulls who trailed by eight points deep into overtime before a fightback.
Joakim Noah, the son of former French Open tennis champion Yannick, proved their final hero at the death.
His steal, followed by a basket, earning a free throw put them ahead for good after 21 lead changes.
"I felt like it took forever to get to that basket," he told Reuters.com.
"Words can't really describe it. We're still alive.
"We were very close to death. Each game has been a rollercoaster."
Derrick Rose was another Chicago hero with 28 points and a decisive block as Rajon Rondo tried to put Boston ahead in the final play.
John Salmons also scored 35 points for the Bulls as they tied the series at 3-3.
Orlando clinched their passage with a 114-89 stroll over Philadelphia to clinch a 4-2 series victory.
Rashard Lewis scored 29 points and Rafer Alston had 21 as the Magic won in Philadelphia for the second time in the series.
E-mail to a friend