(CNN) -- Danish Ryder Cup player Soren Hansen broke the Catalunya course record with a nine-under-par 63 in the Spanish Open on Thursday -- despite starting his round with a double bogey.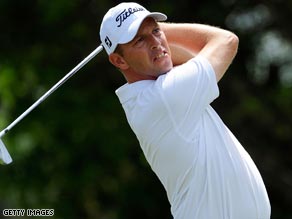 Soren Hansen broke the Spanish Open course record despite starting his round with a double bogey.
An hour after Frenchman Thomas Levet had equalled the old mark of 64 set by England's Peter Baker nine years ago, Hansen completed one of the most remarkable rounds of his career.
"It was unbelievable," Hansen told reporters. "I hit an awful opening drive and it looked like a miserable day, but I came back with some great golf later on."
The 25-year-old from Copenhagen, part of Nick Faldo's side in Louisville last September, came back from his opening six with birdies on the next two holes, then finished the outward half with three more to turn in 33.
After that came one of only two eagles all day at the 527-yard 12th, another hat-trick of birdies from the 14th and one more on the 449-yard last despite driving into a fairway bunker.
Levet is alone in second place, one shot ahead of Spaniard Jose Manuel Lara and Callum Macaulay, looking more and more like the next big player to come out of Scotland.
Meanwhile, John Daly made a steady start as he bids to resurrect his career in Girona.
The 43-year-old American, who is currently serving a six-month ban from the PGA Tour after he was put in jail to sober up, carded a two-under-par 70 to lie seven strokes off the pace.
Daly, dressed in light beige shirt with black and white striped trousers, has cut a colorful figure on the course over the last few days with his flamboyant new range of golf clothing.

See a gallery of golf's worst dressers »
And following gastric band surgery he has cut a significantly reduced figure, losing about 20kg after being forced onto a strict diet.
Two-time major winner Daly showed his undoubted class with an eagle on the par-five seventh and mixed his front half with two birdies and two bogeys.
He played the back nine in level par, retrieving a dropped shot with a fine birdie on the 17th. Daly, who has not played competitively since a trip to Australia this winter, was satisfied with his first round effort.

"I hit it pretty good but didn't make a lot of putts," he told PA Sport.
Daly is now down to 788th in the world and in need of wild cards to get into major tournaments in Europe and the U.S. "I'm not setting any goals at all yet. Just let it happen and try and work on the things Rick (coach Rick Smith) has me working on. If I keep doing it and doing it something good will happen."
E-mail to a friend