(CNN) -- Leading cyclist Davide Rebellin tested positive for doping at the Beijing Games, the Italian Olympic Committee (CONI) told CNN on Wednesday.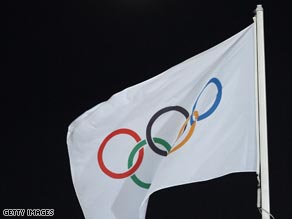 The IOC revealed that six athletes had tested positive for the blood-booster CERA.
Rebellin, who won silver in the road race in China, has been suspended from all competition, a spokesman said.
The International Olympic Committee (IOC) revealed on Tuesday that six athletes had given positive results as samples taken at the Beijing Games were re-tested for a more advanced strain of the blood-boosting hormone CERA.
CNN was also able to confirm on Wednesday that German cyclist Stefan Schumacher was among the athletes who failed tests.
The German cycling federation told CNN that they had received information from the IOC that the 27-year-old Schumacher had tested positive and could request for the back-up B sample to be opened.
Schumacher, who like Rebellin rode for the now-disbanded Gerolsteiner team last season, has been under a cloud after a similar positive test for CERA during the 2008 Tour de France where he won two stages.
Cycling's world governing body, the UCI, have already banned Schumacher for two years in February.
The 37-year-old Rebellin is in the autumn of his career, but has followed his silver at the Olympics with a superb victory in the Fleche Wallone one-day classic last week.
Rebellin, who forged his reputation with an unprecedented hat-trick of wins in the Ardennes Classics in 2004, has denied the doping allegations and requested the B sample be tested, the Italian media reported on Wednesday.
The IOC reported on their official Web site that a total of 948 samples were analyzed, with seven tests, from six athletes, coming back as positive.
"The further analysis of the Beijing samples that we conducted should send a clear message that cheats can never assume that they have avoided detection," said Arne Ljungqvist, chairman of the IOC Medical Commission, in a statement.
"The vast majority of athletes do not seek an unfair advantage. We intend to do all we can to ensure that they have a fair environment for competition."
The latest round of testing, which began in January, focused primarily on endurance events in cycling, rowing, swimming and athletics.
The testing took advantage of improved technology to seek evidence of the prohibited use of CERA, a new strain of EPO, and insulin.
As a general rule, all top five finishers in each event, plus a further two, were drug tested.
As speculation about the identity of the six athletes increased, the U.S. Olympic committee told CNN that that they had not been notified of any adverse findings involving their athletes.
"Unless we hear otherwise, we are treating no news as good news," said spokesman Darryl Seibel.
Olympic officials in 2008 and 2012 hosts China and Great Britain also told CNN that none of their team members in Beijing had tested positive.
E-mail to a friend