(CNN) -- World champion Lewis Hamilton and his McLaren team have escaped with a suspended three-race ban for "deliberately misleading" stewards at the Australian Grand Prix.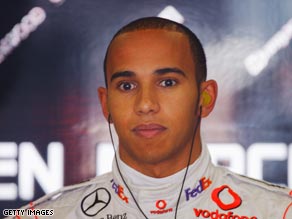 Hamilton was forced to apologize after giving misleading evidence to stewards.
The team could have been thrown out of the Formula One championship, but an extraordinary hearing of the World Motor Sport Council (WMSC) in Paris opted for a lesser penalty.
McLaren had pleaded guilty on all five counts of breaching article 151c of the International Sporting Code.
A statement from the WMSC said they had taken into account "the open and honest way" in which McLaren team principle Martin Whitmarsh had addressed them and added that a "change of culture" has taken place within his organization.
Hamilton was initially promoted from fourth place to third in Australia after race stewards handed Toyota's Jarno Trulli a 25-second penalty for passing the Briton while behind the safety car.
Hamilton and Dave Ryan, since sacked as McLaren sporting director, told stewards that no order had been relayed from the team to allow Trulli to pass.
But evidence which emerged from pit-to-car communications later backed up Trulli's account of what had happened and left Hamilton and his team in hot water.
Don't Miss
He was forced to offer a public apology at the following grand prix in Malaysia, claiming he had been forced into an "impossible position" by Ryan.
As McLaren awaited this week's hearing, long-time team chief Ron Dennis said he would be standing down as chief executive of McLaren Racing with immediate effect, handing over to Whitmarsh.
Dennis, who said he had always planned to stand down, has had an uneasy relationship with the sport's ruling body, and many speculated that the timing of his departure was significant.
Hamilton has endured a difficult start to his title defense, standing 22 points behind compatriot Jenson Button after four races.
But the improved performance of the McLaren in Bahrain and the escape from punishment will give him a glimmer of hope he can get into the championship race.
The next race is the Spanish Grand Prix on May 10.
E-mail to a friend