(CNN) -- Arsenal's Mexican striker Carlos Vela has been given the all-clear to join up with their squad for the Champions League semifinal against Manchester United after a swine flu scare.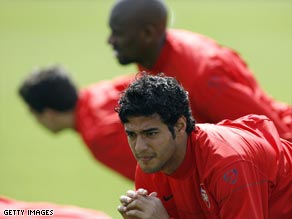 Vela has been given the all-clear to resume training with this Arsenal teammates.
Vela had been visited by some Mexican friends last week and was told to stay away from training while he underwent urgent medical checks.
Arsenal manager Arsene Wenger told Press Association: "It looked to be a massive problem because we were asked to keep him at home and not get him to the training ground.
"Now he has the all-clear and yesterday he was free again to attend training."
Mexican international Vela has now traveled to Manchester for the first leg tie at Old Trafford, but is not expected to be in the Arsenal starting line-up.
The outbreak of swine flu, that has killed more than 150 people in Mexico, has led to the cancellation of the CONCACAF section of the under-17 World Cup, scheduled for Wednesday and Saturday, world governing body FIFA has confirmed on their official Web site.
CONCACAF, the confederation that governs football in central and north America, has decided to follow the lead of the Mexican government in order to safeguard the health of players, fans and those involved in the staging of the competition.
Mexico, United States, Honduras and Costa Rica have all qualified for the finals of the tournament in Nigeria later this year, and the games would have decided the region's champions.
The matches were to have been held on the Mexican border city of Tijuana, which is adjacent to San Diego in California.
Meanwhile, CONCACAF have also confirmed that the second leg of the of the Champions League final between Mexican sides Cruz Azul and Atlante, scheduled for Wednesday in Cancun, will be postponed until Tuesday May 12.
Football Fanzone
Football fans, the chance to have YOUR say on CNN is here!


Atlante won the first leg in Mexico City 2-0 and the winners will represent the region at this year's FIFA Club World Cup in the United Arab Emirates.
Other sports have also been affected, with motorsport's A1GP forced to call off the final round of the season in Mexico.
It was due to draw to a close in Mexico City on May 22-24, but this weekend's round at England's Brands Hatch will now be the title decider.

A1GP chairman Tony Teixeira told Press Association: "To say we are disappointed to have to make this call is an understatement.
"When the news of the health problems broke last week we made sure we kept ourselves up to date with the latest information."
E-mail to a friend