(CNN) -- England expect all-rounder Andrew Flintoff to be available for the ICC World Twenty20 tournament and the Ashes after successful knee surgery.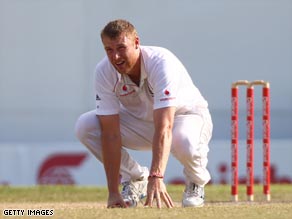 Flintoff should be available for the Ashes after undergoing successful knee surgery.
Flintoff, 31, has left hospital after routine key hole surgery to repair torn meniscus in his right knee.
"The surgeon has informed the England and Wales Cricket Board's chief medical officer Nick Peirce that the operation went extremely smoothly," Hugh Morris, managing director of England Cricket, told PA Sport.
"I am grateful to the ECB medical team, the surgeon and radiologists as well as the Chennai Super Kings for keeping the England team management and me informed about Andrew's injury and the subsequent operation," he added.
The World Twenty20 tournament begins in early June, which means Flintoff will have between five and six weeks to get back to full fitness.
E-mail to a friend