(CNN) -- Israeli tennis player Shahar Peer has won her opening round match in the clay-court SAR tournament in Fes, Morocco, just two months after being refused a visa to play in the United Arab Emirates.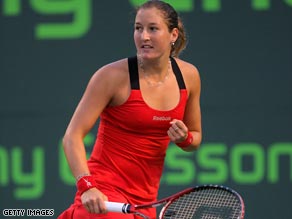 Peer is through to the second round of the SAR clay-court event in Morocco.
Eighth seed Peer progressed to the second round with a 6-4 2-6 6-4 victory over Aravane Rezai -- a Frenchwoman with an Iranian background.
Peer, ranked 53rd in the world, was playing in her first match on Arabic soil since being denied entry by event organizers to appear in the Dubai Tennis Championships in February, a decision that caused widespread criticizm.
At the time, UAE authorities claimed Peer's attendance would pose security fears, as the tournament took place during Israel's military offensive in the Gaza Strip which prompted many Arab countries to boycott the Jewish state.
A WTA Tour spokesman told CNN: "All players who qualify by entry are entitled to play in Sony Ericsson WTA Tour tournaments under Tour rules, and with the exception of what occurred in Dubai in February, there has never been an issue with respect to compliance by our tournaments with this Tour policy and rule."
E-mail to a friend