(CNN) -- Briton Jenson Button made it three wins from four races to strengthen his early grip on the Formula One world championship with victory in a heat-sapping Bahrain Grand Prix on Sunday.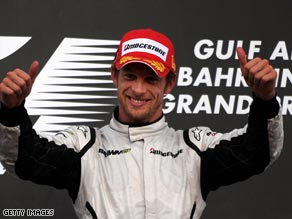 Jenson Button is taking control of this year's F1 worrld championship after his third win in four races.
After victories in Australia and Malaysia, Button's Brawn GP car simply had too much brute force for his rivals to compete with the 29-year-old.
Last Sunday's Chinese Grand Prix winner Sebastien Vettel had to settle for the runner-up spot, seven seconds behind, with pole-sitter Jarno Trulli third in his Toyota.
It leaves the Japanese manufacturers still searching for their first win after 127 grands prix.
The result leaves Button leading the standings on 31 points, 12 points clear of team-mate Rubens Barrichello, who finished fifth, with Vettel a further points adrift in third position.
Don't Miss
Meanwhile, world champion Lewis Hamilton's McLaren finally showed signs of being able to compete with the Brawn's and Red Bull's by finishing fourth, the Briton's best result of the season.
Ferrari also have points on the board after Kimi Raikkonen came home sixth, ensuring the team avoided the worst start to a season in their history.
Although Trulli began at the head of the grid, team-mate Timo Glock started the 57-lap race quicker than the veteran Italian -- and led for the first 11 laps.
However, both Toyota drivers pitted quite early and then had to make up ground behind a wall of traffic, allowing Button to open up a sizeable lead before the second round of pit stops.
"This was a tough race for us," said a smiling Button at the post-race press conference. "This weekend we've not had the pace of the first few races for whatever reason. I guess these guys (Red Bull and Toyota) have caught us up.
"But the start was important, and I had a good one. When I passed Lewis at the start of turn two, that was the move that really made the race for us. I'm very happy. This race win is the best of the three."
E-mail to a friend