(CNN) -- England all-rounder Andrew Flintoff has been ruled out of the forthcoming Test series against West Indies after contracting a knee injury playing in the Indian Premier League.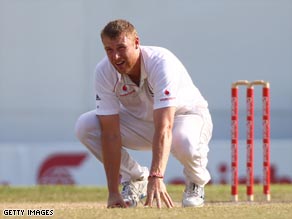 Flintoff will undergo knee surgery next week, sidelining him for the forthcoming Test series against West Indies.
The influential Flintoff will fly home from South Africa, where the IPL is being played, to undergo an operation on his right knee which will sideline him for the next four to five weeks.
That will rule the 31-year-old out of both Tests and the three-match one-day series against West Indies -- although he should recover for the ICC World Twenty20 tournament starting on June 5.
Flintoff complained of a soreness in his right knee playing for Chennai Super Kings, who made contact with England immediately after he underwent scans at a Durban hospital.
Those scans confirmed Flintoff had suffered a torn meniscus in his right knee and was immediately booked in for an operation early next week.
"Clearly this is a huge disappointment for both the player and the IPL team," Dr Nick Peirce, the England and Wales Cricket Board's chief medical officer, told PA Sport.
"This sort of degenerative injury is one that could have happened at anytime, anywhere. The procedures we put in place meant that the ECB medical staff were alerted about the problem immediately and we thank Chennai for their co- operation."
The news is certain to inflame criticism of England's decision to allow their leading players to feature in the IPL for a two-week window at the start of a summer which includes the ICC World Twenty20 and a home Ashes series against Australia.
The ECB only agreed to allow Flintoff, Pietersen, Paul Collingwood, Ravi Bopara and Owais Shah to exploit the IPL riches after weeks of negotiations with the Professional Cricketers' Association and the Board of Control for Cricket in India, who originally wanted England's players to be available for a month.
However, Hugh Morris, the managing director of England Cricket, does not believe Flintoff's injury will put his participation in either of this summer's major events in doubt.
"Andrew has been extremely unlucky with injuries, but if there is one saving grace it is that the injury has occurred now rather than on the eve of either the ICC World Twenty20 or the Ashes," Morris told PA Sport.
"Having the surgery now means that Flintoff should be available for both those events although he is certain to miss the Test series against West Indies."
Flintoff's absence from that forthcoming Test series, which begins at Lord's on May 6, provides a major dilemma for selector Geoff Miller, who is due to announce the squad for the first Test next Wednesday.
England had hoped to have all their major players fit for the start of the summer so they could try and build some momentum before the opening Test against Australia in Cardiff on July 8.
E-mail to a friend