(CNN) -- A group of cricket enthusiasts 'climbed' into the record books on Tuesday when they staged the world's highest match on the side of Mount Everest.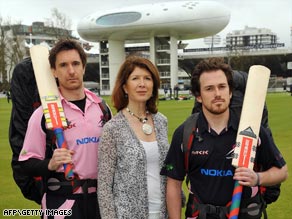 Group members assemble at Lord's this month before heading off to stage the world's highest cricket match.
The 50-strong group of amateurs and enthusiasts made the trip to set a world record for a field sport played at the highest altitude.
After a gruelling nine-day trek through the Himalayas, the squad staged the Twenty20 match at the Gorak Shep plateau, which at 16,945ft is just above the Everest Base Camp.
The two 11-man teams were joined in their ascent by groundsmen, medics and spectators, as well as eight reserve players to provide relief in the testing conditions.
According to PA Sport, team Hillary beat team Tenzing by 36 runs with six balls remaining after locals helped prepare the pitch by moving stones, pebbles and rocks -- sometimes with pickaxes
Team Hillary captain Glen Lowis, who works in marketing, said: "It has been truly one of the most memorable experiences of my life, I cannot thank all of the people involved enough."
The Nokia Maps Everest Test was inspired two years ago when cricket-mad expedition leader Richard Kirtley, 28, noticed that Gorak Shep, the highest plateau of its size in the world, bore a striking resemblance to the Oval cricket ground in south London.
"When I looked at it, I was struck that it was perfectly cricket field-sized and I assumed they must use it as a pitch," he said.
"So I asked a few of the locals, but no one had ever thought about doing it. That's when I came up with the idea. I came back and floated it to a few people I knew, and it's grown from there."
The 'explorers' expect to raise £250,000 for charity with their teams named after New Zealander Edmund Hillary and the Nepalese Sherpa Tenzing Norgay who became the first to reach the summit of Mount Everest in May 1953.
E-mail to a friend