By Ivan Watson
CNN





RAWALPINDI, Pakistan (CNN) -- On television, radio and in the streets, Pakistanis are calling the loss of their hosting of the 2011 World Cup, a decision made by the International Cricket Council on Friday, a national disaster.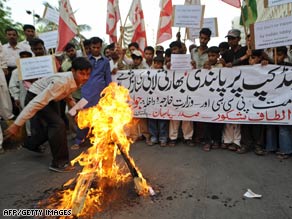 Pakistanis in Karachi burn cricket bats in protest against the International Cricket Council (ICC) on Saturday.
Cricket, an obsession that some here half-jokingly refer to as the country's second religion, has become the latest casualty of the surge of terror attacks across Pakistan.
"We are so sad, I cannot tell you," said Farhan Butt, a physical education teacher and cricket enthusiast, after taking a break from drills with his amateur team at the Rawalpindi Cricket Ground. "People are unable to believe that this would happen to us."
The Rawalpindi Cricket Ground was where British colonial administrators are said to have first played cricket in 1876. More recently, Imran Khan, Shoaib Akhtar and other Pakistani cricket legends played on this field, where several international matches were held during the 1987 World Cup.
This weekend, the weather was perfect for cricket, and the Pakistan army cricket team was winning a match on the field, but the team's manager, Colonel Wasseem Ahmed, was visibly depressed.

Watch the reaction in Pakistan to the loss of the 2011 World Cup »
"I must condemn this issue," he said, referring to the ICC World Cup decision. "We request that the higher bodies reconsider this issue."
But Imran Khan, the star cricket player-turned-politician who led Pakistan's national team to victory in the 1992 World Cup, disagreed.
"It would be ridiculous to expect foreign teams would tour Pakistan," he said in an interview with CNN on Sunday. "Pakistan has become a war zone...especially after the incredible security lapse when the Sri Lankan team was here and they were almost all killed."
On March 3, gunmen attacked Sri Lanka's cricket team as it was traveling by bus on its way to a match in the eastern Pakistani city of Lahore. The hail of gunfire wounded seven players and an assistant coach, and killed at least six Pakistani security guards. The Sri Lankan team had to be evacuated from the cricket stadium in Lahore by helicopter.
Militants have carried out spectacular attacks in recent months, blowing up the Marriott Hotel in Islamabad with a truck bomb, and over-running a police academy in Punjab province.
"If sportsmen are scared to come to Pakistan, will an investor come here?" Khan asked. "A bigger issue than cricket is that we are facing an economic collapse here."
In a nation where many boys dream of one day becoming cricket players, the loss of the World Cup came as a crushing blow.
In the back alleys and vacant lots of Rawalpindi, teenagers play cricket on makeshift dirt fields, amid streams of running sewage. They use stacks of bricks as wickets. Even here, the boys playing pick-up cricket were all too aware of the ICC decision.
"This is a big disaster for Pakistan," said 16-year old Wassim Chaudry. "I'm very unhappy that the World Cup is not happening in Pakistan."
When asked whether Pakistan was safe for foreign players, a group of boys dressed in dressed in sandals and traditional Pakistani shalwar kamiz trousers and long shirts answered in unison, "yes." They then invited an American journalist, who had never before swung a cricket bat, to join in their pick-up game.
It may take a lot more to convince the rest of the world that Pakistan is safe enough for international cricket.

Butt, the cricket enthusiast, insisted the sport would survive this latest setback.
"Cricket is in our blood," he said "As long as Pakistan is here, cricket will be here."
E-mail to a friend

All About Pakistan • Cricket • International Cricket Council