(CNN) -- The International Cricket Council have moved all 2011 World Cup matches out of Pakistan, due to the uncertain political situation in the country.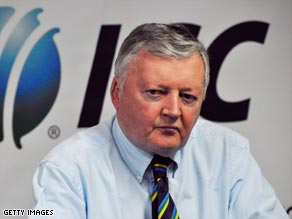 ICC president David Morgan has confirmed the Pakistan will not host any matches in the 2011 World Cup.
Security in Pakistan has deteriorated drastically since the assassination of former Prime Minister Benazir Bhutto last year.
Australia and New Zealand refused to tour the country last year due to security fears while South Africa refused to participate in the Champions Trophy in September last year. The Champions Trophy was then postponed by 13 months and subsequently moved to South Africa.
Most recently, on March 3, the Sri Lankan team bus was attacked by gunmen in Lahore as they made their way to the Gaddafi Stadium for the third day of the second Test between the two sides. Eight people were killed in the attacks and a number of the Sri Lanka team were injured.
ICC president David Morgan told media: "It is a regrettable decision. Our number one priority is to create certainty and deliver a safe, secure and successful event and the uncertainty created by events within Pakistan created a huge question mark over our ability to do just that.
"That was something we saw all too clearly with the delay over the decision of whether or not Pakistan could host the ICC Champions Trophy last year. The event ended up being postponed and we cannot afford a repeat of that uncertainty or any form of postponement for this event.
Don't Miss
"By making this decision now we hope we can put a great deal of any uncertainty to one side and press on with our preparations which, given this is cricket's biggest and most high-profile event within our range of tournaments, are substantial."
The ICC board also received a report on the terror attack on the Sri Lanka team and heard the views of captain Mahela Jayawardene and ICC match referee Chris Broad who was caught up in the attack.
The ICC have now formed a task team comprising the ICC security unit, ICC chief executive Haroon Lorgat and ICC directors Jack Clarke and Shashank Manohar and will conduct an independent security review of all international matches.
"This review will include an assessment of whether current protocols employed by our members are adequate and, if they are not, what can be done to improve them," said Lorgat.
"The ultimate purpose of the review is to help create a safe and secure environment where international cricket can proceed wherever possible. It will be carried out as soon as possible," he added.
E-mail to a friend