(CNN) -- McLaren chairman Ron Dennis ended his 40-year involvement with Formula One on Thursday when he announced a major restructuring of the British-based company.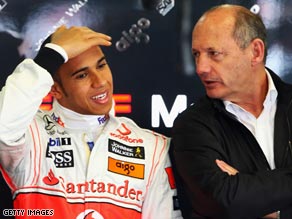 McLaren chairman Dennis, right, will no longer be seen alongside world champion Hamilton on the F1 circuit.
The 61-year-old Dennis, who handed over the role of Team Principal to Martin Whitmarsh in January, has now severed all links with grand prix racing ahead of Sunday's Chinese GP in Shanghai.
"I'm not always easy to get on with. I've always fought hard for McLaren in F1," said Dennis -- who will now lead the growth of McLaren's new sports car business -- in a statement.
"I doubt if (FIA president) Max Mosley or (F1 supremo) Bernie Ecclestone will be displeased by my decision. But no-one asked me to do it. It was my decision.
"Equally, I was the architect of today's restructure of the McLaren Group. Again, no-one asked me to do it. It was my decision.
"I feel enormously enthused about the prospects for the McLaren Group and for McLaren Automotive, and have no qualms about leaving Martin to report to the board regarding matters connected with Formula 1."
Dennis's decision follows the Surrey-based team's controversial start to the F1 season in Australia.
World champion Lewis Hamilton, originally promoted to third place after a post-race inquiry, and McLaren were later disqualified after they lied to stewards over an incident during the race.
McLaren have been ordered to face governing body FIA on April 29 when Whitmarsh, who becomes CEO, will have some explaining to do as he faces the prospect of hefty sanctions against his team and number one driver.
Thursday's statement could help their cause and left Dennis to reflect on his life in F1.
"I passed the role of Team Principal of Vodafone McLaren Mercedes to Martin Whitmarsh on January 16th, the day of the launch of our new Formula 1 car," he said.
"That day I was asked many times whether I would attend the 2009 Australian Grand Prix. My answer was "yes". I duly attended it, albeit not as the person in charge of Vodafone McLaren Mercedes. It was, I admit, a strange feeling.
"The next race, the Malaysian Grand Prix, I watched on TV -- an activity I found surprisingly easy. I'd expected to be more emotional about it, after an unbroken run of attending so many grands prix for so many years."
The compary Web site says McLaren has been engaged in a program to develop a range of pure sports cars that will build on the great successes of the McLaren F1 and Mercedes-Benz SLR McLaren.

As part of this plan, it is intended that McLaren Automotive, currently one of a number of companies within the McLaren Group, will become an independent company later this year.
Dennis said: "With planned additional investment in the company of £250 million, proposals in place for a new McLaren car production facility in the UK, and the potential for up to 800 skilled jobs, McLaren Automotive's expansion will represent a significant investment in the UK automotive industry."
E-mail to a friend