(CNN) -- Ross Brawn should learn on Wednesday whether he has succesfully convinced Formula One's ruling body that the aerodynamic diffuser fitted to the back of the Brawn GP car is legal.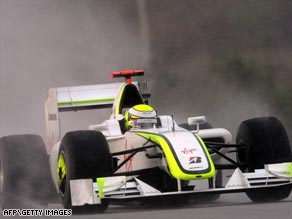 Jenson Button's victories in the opening two races of the Formula One season are on the line.
FIA Court of Appeal judges sat in Paris for eight hours on Tuesday at a hearing called to deliberate on a ruling made by the stewards at the Australian Grand Prix that the Brawn GP, Toyota and Williams cars are within the rules.
At the heart of the matter is the conceptual design of the diffuser -- a body part that aids performance -- towards the rear of the cars belonging to the three teams in the firing line.
FIA technical director Charlie Whiting was also forced to endure a 75-minute cross examination as he and the organisation were accused of "getting it wrong, and not understanding the point".
Brawn is confident the FIA will find in favor of his team who won the opening two races of the Grand Prix season in Australia and Malaysia with Jenson Button at the helm .
"I would just be surprised if the appeal court can make judgements on technicalities -- it's quite a complex technical matter," he told the BBC on Monday.
"You can't be 100 percent confident, but I hope common sense prevails on their side."
Reference was made to the fact that the 'double-decker' design was part of a new approach, and therefore had to be ratified by the FIA before being applied to the car.
But a defiant Brawn said: "We didn't consider this to be a radical new design. It was an innovative approach of an existing idea, and Formula One is all about innovative design. It's a cornerstone and objective of the sport."
The next race is in China on Sunday.
E-mail to a friend