LONDON, England (CNN) -- The recent Antibes Yacht Show has shown that some people may already be beginning to emerge from the international financial crisis.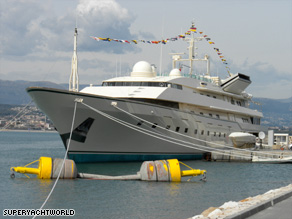 On show: The Antibes Yacht Show was a major success, despite the current financial climate
More than 12,000 people attended the 2009 edition of the spring show in the French port, now into its third year. This year 170 yacht owners exhibited their vessels.
The small resort town, located between the more famous towns of Cannes and Nice, is on the southern coast of France.
Featuring an area called "Billionaire's Quay", this year's event also included a fashion show, a gold driving competition and a kayak contest.
A major highlight of the show was the exclusive release of the new Mercedes "E Class" vessel. The whole event defied the current international downturn.
Yacht owners and boating enthusiasts also used the show as an opportunity to hold seminars and share knowledge of the latest nautical news and technologies.
SuperYachtWorld's Mike Edwardson was at the show, reporting for the magazine and taking photos for CNN's MainSail.

View Mike Edwardson's photos from the Antibes Yacht Show »
You can see more super-yacht galleries, read yachting news and features, and watch the latest edition of MainSail on the MainSail homepage.
E-mail to a friend


COPYRIGHT © 2009 IPC MEDIA LTD. ALL RIGHTS RESERVED