(CNN) -- MotoGP's opening race of the season was postponed until Monday after torrential rain saw the floodlit race in Qatar called off at the last moment.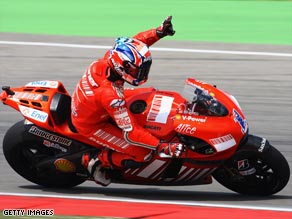 Stoner is on pole for the opening race of the season in Qatar.
The riders were set to ride off on their warm-up lap when organizers decided that the heavy rain, coupled with high winds, would make it unsafe to race under the lights.
Earlier the 250 and 125cc races had to be shortened after storms in the Arabian desert.
Initially there was confusion whether to main MotoGP race would be run at all but it was later confirmed on the offiicial Web site www.motogp.com that it would go ahead on Monday evening at 9pm local (1800GMT).
An additional warm-up session will also be run two and a half hours ahead of the race.
Australian Casey Stoner will start on pole position as he bids to regain his title from defending champion Valentino Rossi of Italy.
Stoner had dominated practice with a fastest time of one minute 55.286 seconds on the 5.38 kilometer circuit.
When the race finally gets under way, he will be bidding for a hat-trick of season-opening victories at the Losail Circuit, just outside Doha.
Doha has an average eight days of rainfall per year.
Floodlit racing was introduced to MotoGP last season in Qatar, proving a great success with spectators and the television audience.
The 250cc race, which was won by Spain's Hector Barbera, on an Aprilia, had been cut from 20 to 13 laps.
Italy's Andrea Iannone was declared the winner of the 125cc race with only four of 18 laps completed on a flooded circuit.
E-mail to a friend