By Josh Salzmann
Fitness expert





(CNN) -- Josh Salzmann is CNN Living Golf's resident fitness expert. During his 30 year career, Salzmann has put an impressive number of sportsmen and celebrities through their paces, including South African golfer Ernie Els. Here he reflects on his first Masters experience with Els in Augusta.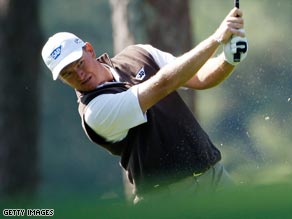 Ernie Els hits a shot on the first hole during the first round of the 2009 Masters Tournament at Augusta National.
For any sports fan who visits Augusta at this time of year, it will be a once in a lifetime experience. There's a sense of excitement in the air, from home owners who sell their front lawns as parking bays, to the people working the roads trying to find a ticket, or to sell you one.
My own experience of coming to Augusta for the first time was something a little different.
I was in my first few months of working full-time as a trainer for Ernie Els. I guess it felt like my own version of Eddie Murphy's film "Coming to America."
The golfing world was new to me, however the rules and regulations at this hallowed ground have a reputation and a history all of their own.
I'm a great believer in learning through failure and this first time at a major was one of those.
I showed up to the practice ground after warming up Ernie with a sleeveless vest on or, as (golf instructor) David Leadbetter called it when I walked the course with him, "a wife-beater shirt."
Each day that passed I broke another rule, from having a label on my water bottle, going into the wrong clubhouse, wearing shorts on the practice range, jogging up the course, etc., etc..
I think to make it easier for any other novice, the members should have had a poster of me with an inscription at the bottom saying 'Don't do these twenty things at Augusta or you may be told to leave the course at once!'
Along with these uncomfortable moments came some really fun times of enjoying Southern hospitality.
Asking a waiter where I could find some toiletries led to a complete stranger offering me a lift in his pickup truck to the local mall.
His name was Bubba and he worked for the railroad cutting trees which were close to the tracks. He had to take his chainsaw off the front seat so I could ride shotgun. With George Jones blasting out of his CD player, Bubba was my driver for the evening.
You couldn't have met a kinder or bigger man -- he weighed a good 400 pounds. The good news for me was that at last, hanging with Bubba, I couldn't break any dress codes.
On a more serious note, the Masters require a player to be at his very best.
The greens are the fastest and one mistake over the four days can cost a player the tournament.
Watching as part of team Els was a truly amazing experience. More than at any other time did I feel each and every shot, both the good and the bad.
Being a true competitor, I felt physically ill when Ernie missed the cut last year. To get over my own disappointment I needed to spend three hours at the local gym getting rid of all the frustration.
It is now the Masters 2009 and Ernie has, I feel, just as much chance as anyone else out there to put on that green jacket on Sunday.
Good luck Ernie, I know you will give it your very best.
E-mail to a friend