By Patrick Snell
CNN sports anchor and correspondent





(CNN) -- Cool silence divides Woods, Mickelson:
April 12, 2009
I was riveted Sunday at the Masters as Angel Cabrera won a historic first-ever green jacket, but I also had my eyes on two other key performers: Phil and Tiger both played their part that's for sure and I certainly took a more than keen interest in their game for a number of reasons.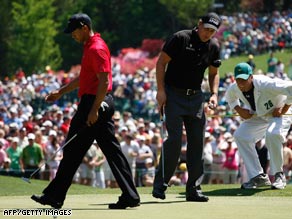 Tiger Woods and Phil Mickelson are shown on the sixth hole during Sunday's final round of play at the Masters.
I wanted to see for myself whether the reports are true. Do the U.S. pair really dislike each other or is it just a case of mutual respect but no real warmth between them?
You can always tell a lot from the body language on the first tee and ahead of their final round together I did observe certain "frostiness." First of all, they were both probably a little surprised I'm sure to be (initially at least) playing catch-up with the others on Sunday.
Over the years, it's been well-documented that Mickelson and Woods aren't exactly the best of friends. When paired together at Ryder Cups, for example, their points tally hasn't been what it should have been. Sound off below
So maybe I shouldn't have been too surprised when Mickelson strode onto that first tee box well before his compatriot and there was nothing more than a firm handshake before battle commenced. I was also keen to see how Mickelson would greet Woods' caddy Steve Williams. The New Zealander had made some less than flattering comments about Lefty early this year and they only served to fan the flames of controversy and add to the theory this dynamic golfing duo just don't get on. Williams was reprimanded by his boss on that occasion and to his credit, Mickelson was quick to extend his hand to Tiger's bagman, too. If there was any tension simmering it wasn't showing.
I guess I will just have to conclude the men are supreme rivals on the field of play and that probably will always prevent a genuinely warm friendship forming. Cordiality will have to be the order of the day. I accept professional golfers are totally focused on their game when they're in the heat of battle but I don't accept there can't be any conversation during a five-hour round of golf. And between Woods and Mickelson Sunday barely a word was uttered. I watched them walk down the eighth fairway at the same time. Separated by just a few yards and walking at more or less the same pace, not a word was uttered!
As for this particular personal duel, it was advantage Mickelson. Lefty ending the championship at nine-under, one stroke better than his great rival.
Quiet-man Cabrera making waves:
April 12, 2009
If there's one player who has flown under the radar here this week, then it surely has to be Angel Cabrera.
Argentina's Angel Cabrera is not surrounded by the entourage that a lot of his rivals take with them.
I always enjoy getting out of the media center and watching players and their routines in the minutes leading up to their round and it was with a keen sense of anticipation that I sought out the Argentine on Saturday.
I feel you can always judge a man -- or at least his approach to the game -- by his entourage and the no-thrills package that is this South American golfing superstar is a joy to behold.Share your thoughts here
While many of his younger fellow-professionals are surrounded by all kinds of swing coaches, personality gurus and fitness consultants, not to mention agents and business managers etc, " EL Pato" as he's known in golfing circles just gets on with it.
But don't be under-estimated by his gruff exterior. Cabrera knows what it takes to win a major having triumphed at the 2007 U.S. Open and he also has almost 40 other wins worldwide.
You don't get that good or that consistent if there's no shortage of natural talent to fall back on but it's the quick and simple way he goes about things that impresses me.
While on the putting green ahead of his third round, there was a calm demeanor about him that's sure to stand him in great stead during what could be a very tense and anxious Sunday.
Sure, he likes a smoke and like Spain's Miguel Angel Jimenez, he doesn't care who sees. His routine on the green was simply one small device next to his feet that presumably helped with his stance -- and then it was just a succession of attempts to make the small putts count.
Drive for show and putt for dough as they say. I'm told Cabrera has been working very hard of late on his short game, and the signs are that policy could be about to pay off big- time.
And you just know, any victory speech he has to make Sunday will be short and sweet. And in Spanish too.
U.S. media Tiger obsessed:
April 11, 2009
Why do large chunks of the U-S media always seem to feel any event in which Tiger Woods is not storming all the way to a land-slide victory is somehow "devalued"?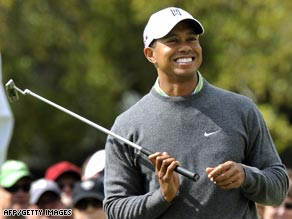 World No.1Tiger Woods is the only show in town for some of the U.S. media.
Look, the fact is the guy's human and he's isn't going to win every tournament he competes in. Sorry! Woods may yet launch a powerful assault on the leader-board and come back to win a fifth Masters title but until he does, let's at least give those who are "doing the business" out there on the course some credit.
I've actually lost count of the amount of times I've heard " yeah but who cares about him?" this week in and around the International media center in Augusta!
Well the answer is plenty of genuine golf fans do! And what's more we as journalists have a duty to reflect that. Sound Off below
At least where I come from we do! half the time the player in question being disdainfully dismissed or written off just happens to be American too. . I guess it simply has to be Tiger or no- one then as far as some hacks from the United States are concerned.
Never mind the fact Chad Campbell is playing the golf of his life right now and at least through two rounds at Augusta has the rest of the field looking pretty ordinary.
At the halfway stage fellow-American and Ryder Cupper Kenny Perry was also at nine-under but you can bet it's still Tiger who will get all the headlines. Why? Now I understand as world number one and fine talent that he is, he's worthy of plenty of media scrutiny but surely only when merited and not to the detriment of others out there who are currently outshining him .
Woods finished his second round at two under....leaving him with plenty to do if he's to go and salvage his first major of 2009. For the second straight day, be blew past assembled reporters with a face as long as Manchester City's trophy-less streak. Not a word was uttered as he stormed through to the club- house! let's hope for his sake Tiger's golf does the talking over the next couple of days......
The Shark still bites:
April 10, 2009
It's quite clear after Thursday's opening round at the 73rd Masters, that there is plenty of bite left in Australia's 'Great White Shark'.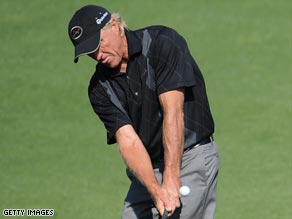 Greg Norman opened with an impressive 70 as he attempts to win his first green jacket.
On a day when Augusta-born Larry Mize stole the show for the seniors with a vintage opening 67 to leave him on five-under-par, Greg Norman proved too he still has the stomach to compete at the very highest level.
Now 54, Norman's only here due to his high-placed finish at last year's British Open at Royal Birkdale but unlike the conditions in North West England last July, Augusta was idyllic -- and how the players took full advantage.
Norman opened up with an impressive 70 leaving him at two-under through 18 holes. ... and the Australian was left lamenting the fact he felt he could have gone even lower with a round somewhere in the mid-60s.
The key for Norman is his wife Chris Evert. The newlyweds clearly love every minute of being with each other and that extends to her following his every move on the course. Share your thoughts here
Evert, it turns out, is one of his loudest cheer-leaders out there and she certainly lets Greg knows where she is at each and every hole.
Norman says he benefits from having her around in a big way. The fact she's a former sports star herself means she can relate to what he is going through.
Whether that alone is enough to get him through to a first-ever green jacket is doubtful but it's clearly a huge step in the right direction.
The Par-three tournament: calm before the storm
April 9, 2009
It was a case of very much the calm before the storm. Before play got underway this Thursday at the Masters, how nice it was to see players unwinding with friends and family during Wednesday's traditional curtain raiser to the tournament -- the par-three competition.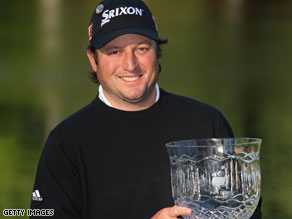 Tim Clark, of South Africa, aced the final hole to win the par-three contest at the Masters on Wednesday.
It's a time when Jack Nicklaus, Arnold Palmer (who won the 1967 event) and Gary Player get together to once again roll back the years and show their legions of fans what they can still do.
Player, in fact, added another magical memory to a whole stack of Masters treasures when he elegantly struck an ace in front of the admiring fans gathered round the ninth green.
The par-three shootout at last brought some badly needed decent weather to Augusta, and that in turn brought out the masses in their thousands.
The sun was out, and though still cooler than we might have expected, many of the players decided they wanted to shine too.
Traditionally it's a time when family members get the chance to caddy -- especially the wives. Tennis legend Chris Evert was on the bag of husband Greg Norman, who's here playing his first Masters since 2002. The Shark had plenty of bite about him, giving us a taste of his playing heyday with a majestic hole in one to match the exploits of Gary Player. And the aces weren't done there.
Defending Masters champion Trevor Immelman of South Africa gave a solid performance and still managed to avoid winning the whole thing outright. Augusta tradition dictates that whoever wins the par-three tournament doesn't go on to win the real deal -- WAS that Tiger's reason for not playing? Immelman junior also got some firsthand experience of seeing his dad in action too.
So who was the winner? Another South African caught the eye, and Tim Clark will certainly be hoping he can break the curse and go on to take the green jacket. He too struck a sublime hole in one en route to victory, and maybe this will be his year. He's been a runner-up before at Augusta, and he recently beat Woods at the world match play shootout in Arizona, so he's certainly not going to be short of confidence.
Tiger and the Shark are big stories ahead of Masters
April 8, 2009

We always knew the build-up to the season's first major would be dominated by the world's top player. But no-one expected the scenes of mayhem that accompanied the media center's tannoy announcement that "Tiger Woods is on his way into the interview room."
The charge to the not-overly large-sized suite was in full swing and for many late arrivals it really was a case of standing-room only.
Woods himself was in typically forthright form during the conference, which lasted the best part of an hour. Never giving anything (of substance) away seems to be his chief maxim when confronted by the world's media, and this display was no exception.
The American spoke of his "rivalry" with Phil Mickelson, largely playing it down by referring to "good battles" down the years.
He also revealed he wouldn't be playing in Wednesday's traditional par-three competition.
To be fair to Woods, it's not his job to entertain -- and I suppose as far as Tiger's concerned it's all about letting his game do the talking when the first ball is struck in anger on Thursday. We shall see.
Tiger wasn't the only one to pack out the interview room. How refreshing to see former world number one from Down Under, Greg Norman, back in attendance for the first time since 2002. Now aged 54, the Shark is possibly playing his last ever Masters and he certainly seemed to enjoy the back and forth with the media ... perhaps realizing deep down that this is, indeed, his swan song.
This week is really a family affair for him, too, he revealed -- his son Gregory junior is on his bag while his new bride and tennis legend Chris Evert is also here to accompany her husband. At the presser, Norman revealed he'd been given some great insight by his wife, who told him he shouldn't be overly concerned by his failure to win the Masters, despite several near misses, as she lost to her nemesis Martina Navratilova no less than 13 times during her illustrious career.
The Shark's response? "Well, I went 22 times without winning the Masters!"
Tiger's return adds spice to Masters
April 7, 2009
Ask any player and they'll tell you the drive down Magnolia Lane upon arrival in Augusta is always special.
Phil Mickelson will always cherish his return to the National the year after he won his first green jacket as much -- I would imagine -- as a rookie playing one of the most famous venues in golf for the first time.
Now us media types don't get that kind of privilege extended to us of course and the state of my prized 94 Grand Marquis would probably raise more than a few eyebrows anyway rolling up to that elegant clubhouse.
But there's no doubt being back here for the first major of the season has its own unique appeal.
There's still a real buzz on day one and it's all too apparent wherever you look.
Who do you think will win the U.S. Masters?
The reception at the media center is always warm with journalists renewing acquaintances as we wait in eager anticipation for that first pre-tournament press conference. No prizes for guessing whose very presence will generate most interest this year!
One of my favorite things to do on arrival at Augusta National after the 150 mile drive from CNN's world headquarters in downtown Atlanta is to get out there on the course and just go for one long walk all the way out to the famed Amen corner.
Apart from that it's great exercise and gets you out of the (at times stuffy) press environment.
It's a wonderful opportunity too to see first hand any course changes made, subtle or otherwise, and follow any players out there playing and see what strategies they use on certain holes.
I'd be economical with the truth if I didn't admit Tiger's comeback has given this year's event added spice, but as I so often point out to people (including my fellow reporters) this event is about so much more than Tiger Woods.
While Woods does have a great record at Augusta overall, he doesn't quite "own" the tournament as large sections of U.S. media like to make out.
The fact is, he's only won once here since his success in 2002 and that occasion was four years ago.
We shouldn't overlook, for example, a certain Greg Norman and his return to the scene of so much drama and ultimately, for him, heartbreak.
The Australian came so close to winning here and while this is undoubtedly his swan song thanks to his fine performance last year at the British Open we're all encouraged to make the most of the "Shark" while he's in town.
I'll talk more about all the young blood at this years Masters later in the week, but don't be surprised if one of the teens competing hits the headlines in at least the early part of the week.
Ryo Ishikawa, Danny Lee and Rory Mcilroy are 17, 18 and 19 respectively, with McIlroy of Northern Ireland poised -- some say -- to feature over the weekend.
That remains to be seen of course but just the sheer exuberance of, for example, of young Ryo is a joy to behold.
Excited is not the word about playing in his first Masters. Still a schoolboy in the Japanese capital Tokyo, the Manchester United fan who's already spoken of his love of American hamburgers has boldly predicted he can win a green jacket by the ripe old age of twenty!
Now how about that for confidence! Should be a fascinating week...
E-mail to a friend