By Richie Ramsay





(CNN) -- Richie Ramsay is CNN Living Golf's resident European Tour player. He is also the first Scot to win the U.S. Amateur Championship in over a century. In his second blog for Living Golf, Ramsay talks about his approach to practising and physical fitness, the importance of a good short game, and the five P's.

When going out to practice I will always sit down beforehand alone, or with my coach, and identify weaknesses in my game. I will form a structured practice, which will generally look at the technical side of things.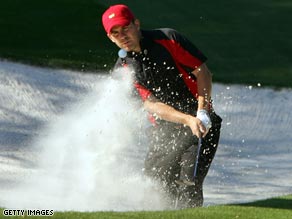 Richie Ramsay believes that keeping fit, identifying your weaknesses and fixing them, and focusing on your short game are the keys to good golf.
This can take the form of specific drills, like the one I am working on at the moment to hinge my wrists and get my hands in the correct position in the backswing. You have to hit many balls to ingrain this, but I will slowly make the transition from doing this on the range to taking it on the course.
As your main aim is to improve the technical element of your game, it is important not to concentrate on your score at this stage -- this way you can focus on building up your confidence.
Finally, you would begin to free flow and hopefully let all your hard work show. The biggest advice I can give someone looking to make a change to their golf is to take a lesson from a professional, as you want to make sure you're on the right track.
Also, certain courses call for you to hit a particular shot, so practicing these in the weeks beforehand can be a massive benefit. Examples of this include a high draw shot for playing the Masters at Augusta, or a low-wind shot for playing the British Open.
One thing which tour players will always practice is their short game. This can be overlooked by most amateurs -- but this is really where the game is won or lost. When you listen to someone who has won recently, they will undoubtedly say that they have putted well or that their short game was good for the week.
I am currently in Atlanta, Georgia and I am very lucky to be a member at the Golf Club of Georgia, where the greens are fast and slopy just like on tour every week. This allows me to practice effectively, so that when I go back to Europe to play tournaments, I have the confidence to hole putts on similar greens.
Another thing guys on tour do for preparation is working out in the gym. Making sure your body is in the best condition is essential to help cope with all the travel and wear and tear from playing. Tiger Woods was really the catalyst, the guy who started making people more aware of their physical fitness, and I certainly feel going to the gym is both a physical and mental benefit.
Alongside gym work I have a regular physio back home, who I check in with to make sure I stay injury free. A lot of people I know have had injuries that have stopped them playing for months, and any sign of a small problem has to be dealt with quickly and effectively so that it cannot manifest itself into a major problem.
No matter what I'm doing to get ready for a tournament, my coach always reminds me of the five P's: "Poor Preparation Proceeds Poor Performance."
Who I want to win the U.S. Masters
April 9, 2009

The first Major of the year and you simply can't find a better place to stage than Augusta National. It is a special place where even the world's best strive to be there every year.
When I played in 2007, courtesy of winning the United States Amateur Championship, it was a dream come true.
As a youngster you would always stay up late to watch the highlights on TV, defying my parents who thought I was fast asleep.
The back nine is especially vivid as each hole is individual, providing so many fireworks over the years.
The comebacks and collapses were great to watch and I had my very own special memories when I played a challenge match over the last nine against Phil Mickelson on the Sunday proceeding the tournament.
A hole in one by Phil on 16, short game tricks and a last hole one up victory made for a memorable morning's golf.
The course has again been changed this year with further yardage added on several holes. This plays straight into the hands of the longer hitters, though being able to handle to greens is always the key to winning at Augusta.
The lightning fast greens can change day to day and in 2007 produced some of the firmest and fastest greens I will ever play on.
With this in mind, there are certain players I will look to make an impact. They start with one of my ex-teammates Rory McIlory. His natural high draw is perfect for Augusta, especially if the greens firm up, and the experience of having JP Fitzgerald on the bag will surely be an added plus.
Dustin Johnson and Nick Watney I feel have the games to compete, with both capturing titles already this year.
These three are all young and exciting, however experience at Augusta is proven to be a key ingredient in the champion.

Retief Goosen and Geoff Ogilvy are great putters on fast greens and they are the two I expect to provide the greatest challenge to Tiger who will be installed as favorite.
The man I want to win is Sergio Garcia. He has come so close several times and if he can match his pure ball striking by rolling in some putts it would be great to see "El Nino" don the famous green jacket.
E-mail to a friend