(CNN) -- An injury-hampered Serena Williams slumped to a straight sets defeat to Victoria Azarenka of Belarus in the final of the WTA Tier One tournament at Key Biscayne in Florida.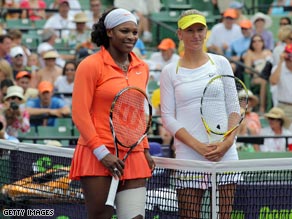 The strapping on Serena's thigh is clearly visible as she poses before the start with Azarenka.
Williams played with heavy strapping on her left thigh, clearly struggling with her movement in Saturday's final as Azarenka took ruthless advantage for a 6-3 6-1 win.
The 19-year-old Azarenka has charged up the WTA world rankings this year with two victories in lesser-rated tournaments and only two defeats.
The first came to Williams in the fourth round of the Australian Open where the mixture of a stomach ailment and heat exhaustion forced her to retire when leading by a set although trailing in the second.
Williams went on to take the first grand title of the season and move to top spot in the world rankings, but her bid for a sixth victory at this week's prestigious tournament hit the buffers.
A series of tough three-setters, including a semifinal win over sister Venus, had clearly taken their toll on Williams, but despite her incapacity she moved an early break ahead to lead 3-2 in the opening set.
But it proved a temporary reprieve as Azarenka started finding the lines with excellent ground strokes and took the next four games to close out the opener.
Williams was clearly a spent force and after bravely holding her service at the first opportunity was broken as Azarenka took a 3-1 lead.
A further break saw the lead stretch to 5-1 with Azarenka serving for the biggest title of her career.
Williams briefly rallied to save a match point and then force a break point, but it was only a temporary reprieve as a weak shot into the net on the second championship point handed her opponent victory after 72 minutes.
"I'm not one to make excuses, the better player won today," said Williams as she collected the runners-up trophy.
Azarenka, who will move up to eighth in the rankings after the victory, said her improved form this year was down to more self confidence.
"I just think I have improved everything since last year and started believing in myself a bit more," she said.
Williams must now hope she recovers in time to defend her title in the Family Circle Cup in Charleston in a fortnight as she bids to hold on to her top ranking.
E-mail to a friend