(CNN) -- An apologetic Lewis Hamilton said he had made a "huge mistake" for misleading race stewards at the Australian Grand Prix but said he had been told to lie by McLaren sporting director Dave Ryan.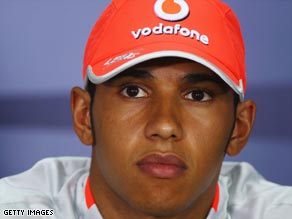 Hamilton gave his version of events as he faced the media in Sepang on Friday.
Hamilton, who was stripped of third place in the season-opener, broke his media silence after Ryan was suspended by McLaren and sent home from the Malaysia where the second round of the championship takes place this weekend.
Sunday's race in Melbourne finished under the safety car after a late crash and there was initial confusion as to whether reigning world champion Hamilton or Toyota's Jarno Trulli had claimed the final podium position.
After hearing evidence from Ryan and Hamilton, Trulli was given a 25-second time penalty by race stewards and demoted to 12th place for overtaking the Briton while yellow flags were out, which is a breach of F1 rules.
But a subsequent inquiry by world motorsport governing, the FIA, discovered that Ryan had ordered Hamilton over race radio to slow down deliberately to allow Trulli through.
This directly contradicted evidence that the pair had given and a chastened Hamilton said that the snowballing controversy had been "the worst time I've experienced in my life," but that his loyalty to his team had been his undoing.
"I am not a liar," he told Press Association.
"I'm not a dishonest person. I'm a team player and every time I've been informed to do something, I've done it.
"This time I realise that it's a huge mistake and I'm learning from it."
New Zealander Ryan has been with McLaren for over 30 years and team chief Martin Whitmarsh said he had played a key role in their successes.
"However, his role in the events of last Sunday, particularly his dealings with the FIA stewards, has caused serious repercussions for the team, for which we apologize," Whitmarsh said.
Hamilton also threw his support behind Ryan.
"I'm very sorry for the situation and for my team and for Dave, because he's been a good member of the team for many years and I don't think that it was his intention," he added.
"He's a good guy. When I went into the meeting, I had no intention (to lie). I just wanted to tell my story and see what happened. I was misled and that's just how it went."
Hamilton's mood would scarcely have improved after Friday's opening practice sessions in Sepang where his McLaren again struggled for pace.
He finished seventh and 11th fastest respectively and also received a $1600 fine for speeding in the pit lane.
Ferrari pair Kimi Raikkonen and Felipe Massa showed improved form after their Melbourne disappointments to record the fastest times of the day in the afternoon session.
The all-conquering Brawn GPs of championship leader Jenson Button and Rubens Barrichello finished sixth and seventh in the afternoon as team chief Ross Brawn admitted the balance of the car was causing problems.
Brazil's Barrichello was later given a five-place grid penalty for Saturday's qualifying after having to change his gearbox.
E-mail to a friend