(CNN) -- World champion Lewis Hamilton says he will be struggling to even score a point in the opening grand prix of the season in Australia as the established order of Formula One looks set to be turned on its head this weekend.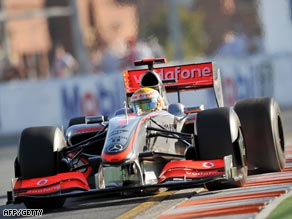 Hamilton struggled in the opening practice sessions of the Formula One season in Melbourne.
McLaren's Hamilton was way off the pace in Friday's opening practice sessions in Melbourne, finishing 16th and 18th.
It was scarcely better for Ferrari, with Felipe Massa, Hamilton's title rival last season 10th in the afternoon session and team-mate Kimi Raikkonen in 11th position.
Topping the time sheets were last season's also-rans Williams and Toyota along with Formula One newcomers Brawn GP, formerly the Honda team.
The three teams are all using controversial rear diffusers to aid their aerodynamic performance.
Rival teams, including Ferrari, have lodged an official protest against the decision to allow the bodywork, which will be heard after the second race of the season in Malaysia.
Hamilton told the Press Association that the outlook for the opening race of the season was bleak. "Optimistically we can get a point, but I don't think so somehow," he admitted. "In terms of true pace at the moment I don't think we are quick enough."
Nico Rosberg, driving a Williams, posted the fastest times in both the morning and afternoon session on Friday, with a best of one minute 26.053 seconds in the second.
"Being at the back is tough for anyone," added Hamilton, who ended the day 1.8 seconds down on Rosberg. "We're clearly not in the place where we would love to be, but we're working extremely hard, as hard as we can.
"We've a steep, very tough challenge ahead of us, but if anyone can do it, I believe my team can."
Brawn's Rubens Barrichello was second fastest in the second session with Toyota's Jarno Trulli in third.
Don't Miss
Jenson Button, who has had to play second fiddle with the emergence of British rival Hamilton, was fifth and sixth quickest with many experts making him favorite for Sunday's race.
Brawn GP, run by former Ferrari technical guru Ross Brawn, were formed after Honda pulled out of Formula One because of the global economic downturn. Brawn kept the same driver line up of Brazil's Barrichello, the most experienced driver on the F1 grid, and Button.
Friday's afternoon session was held at 5pm local time, leaving the drivers to compete for the first time in 'twilight' conditions. Sunday's race will start at the same time to fit into European television schedules.
Saturday will see the first qualifying of the season where grid positions for the race will be decided.
E-mail to a friend