(CNN) -- Former world No. 1 Kim Clijsters looks set to announce her return to the women's tennis circuit two years after retiring from the sport to have a baby.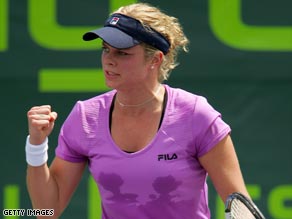 Kim Clijsters looks set to target the US Open as part of her comeback plans to be unveiled this week.
The 25-year-old Belgian has called a press conference for Thursday when she is expected to announce her playing schedule later including plans to appear at the US Open in September.
Clijsters, who gave birth to daughter Jade Elie last February, has recently been in training and will play World Team Tennis in the United States in July.
She won 34 singles titles before retiring, including the US Open in 2005 when she defeated French hope Mary Pierce 6-3 6-1 at Flushing Meadows.
Clijsters was also beaten in four Grand Slam finals including the 2004 Australian Open to compatriot and rival Justine Henin, who has also since retired.
Clijsters married American basketball player Brian Lynch in 2007 having previously been engaged to Australian former number one Leyton Hewitt.
She reached the top of the world rankings in August 2003 and had a record of 427 wins against 104 defeats as well as having the rare dinstinction of holding the number one spot in both singles and doubles in 2003.
Clijsters is scheduled to play at an exhibition tournament this summer at Wimbledon along with Andre Agassi, Steffi Graf and Tim Henman.
E-mail to a friend